If you are looking for the best freezers and deep freezers in Saudi Arabia, this article is for you. In this article, we will refer to the most important points that enable you to know the right freezer for you.
And because freezers and freezers are one of the most important household pieces, you have to choose the best quality to serve you for many years with high efficiency. You have to know that this is due to the company you are heading to. So while reading this article, which requires three minutes, you will know the best types of deep freezers and their prices in addition to where to buy them in Saudi Arabia to ensure comfort that lasts years away from the problems of the freezer refrigerator and the frequent breakdowns of the inferior types.
Now let's get started!
Midea freezer refrigerator from Shaker Company
Freezer Media from Shaker Company saves your time and fatigue searching for good types of freezers. It provides you with different sizes of this brand to suit the number of your family members and the area of your home as well as your personal desires. Shaker Company is one of the best electrical appliances companies in Saudi Arabia in terms of support and reliability in dealing. This is especially true with the increasing demand for it due to the quality and support it provides 24 hours a day.
Advantages of a deep freezer from Shaker Company
The advantages of the deep freezer from Shaker Company are many, the most important of which are:
The deep freezer cools food very quickly, up to 10 minutes.
Deep-freezer refrigerators consume less electrical energy than other types.
The freezer refrigerator has wheels for easy movement anywhere.
The internal deep freezer body is stainless steel, even after many years.
Easy refrigerator cleaning due to shelves and moving baskets.
The elegant shape of deep freezers enables you to place them anywhere but in the kitchen.
All shelves and baskets in the deep freezer receive balanced air distribution.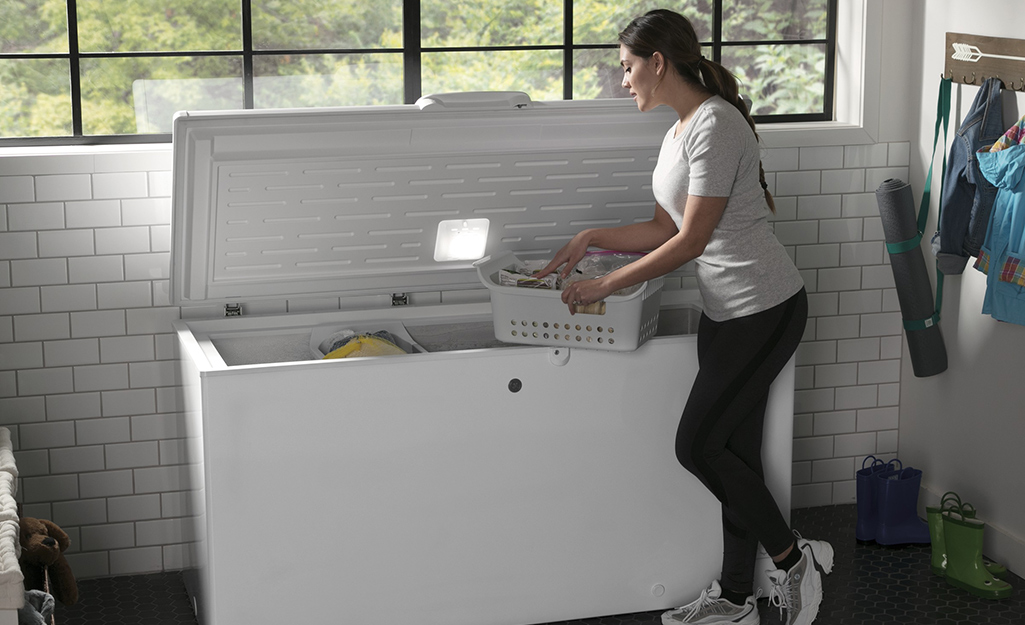 The best deep freezers are found in Saudi Arabia
We have collected for you below the best types of deep freezers in Saudi Arabia, which give you the best cooling that keeps your foods fresh as you like and in forms and features that serve your comfort to the greatest extent you may expect. As you look for a freezer, the following lines are very important to you.
1. Midea single-door freezer (9 CFT) , silver:
Keep all foods at an ideal temperature with the Media Single Door Freezer. It is equipped with an airflow feature in all directions so that each section in the freezer is cooled at the same time, especially after opening the door, which enhances the quality of food and makes it always fresh, and the freezer box helps you to cool at a special low temperature to separate and store items that you want to stay fresh for a long time without being harmed.
Enjoy delicious frozen foods professionally with the best upright freezer from Shaker Group.
2. LG Freezer 11.4 CFT, Silver:
Keep your delicious foods safe and fresh for as long as possible with LG's high-quality freezer.
Add a touch of beauty to your kitchen and get professionally cooled, frozen foods of your preference with the LG freezer that provides balanced cold airflow on all shelves, and the frost-free cooling feature prevents annoying ice from accumulating when removed manually.
3. Midea Refrigerator Freezer, 21 CFT, Silver:
Get the Best Midea 21 CFT Convertible Refrigerator in Silver!
Yes, you can benefit from the best vertical freezer in Saudi Arabia on both sides, whether you want a refrigerator or freezer that can switch between the two modes with the push of a button to get the best cooling that keeps your food fresh and delicious with or without freezing, as well as shelves in a standing freezer. Shelves that enable you to arrange food harmoniously, especially with the internal light that makes it easy to reach any purpose quickly. The refrigerator is a longitudinal freezer that does not take up much space in your kitchen space, and it is easy to move from place to place because of its streamlined base.
See also: The Best Refrigerator-Freezer Set in Saudi Arabia.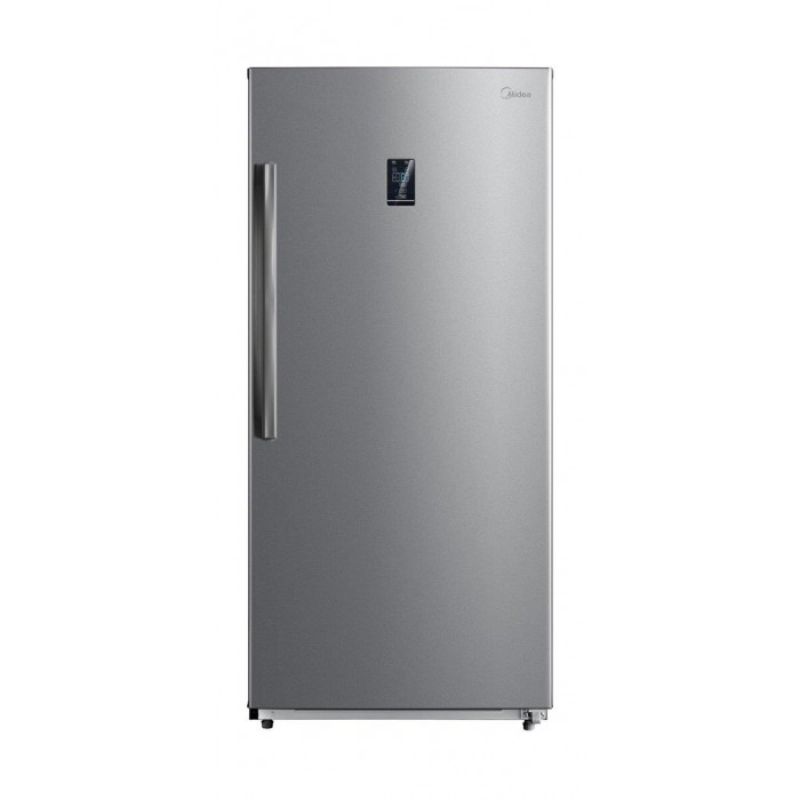 4. Midea horizontal freezer, 2 doors, 560 liters, white:
Midea's horizontal freezer comes with two doors and a capacity of 560 liters, making it the best floor freezer!
You may imagine that we exaggerate as the best floor freezer, but its features and daily sales within Saudi Arabia prove its quality and excellent and smooth use, as a large floor freezer provides great comfort for women at home as it has a very large capacity, as it allows the possibility of putting what you like from the meat and foods that you prefer to keep to eat in any season and it is the same taste and deliciousness, and it is easy to transport because of its streamlined wheels, which enable anyone to move it without the trouble of heavy and tired weight during cleaning.
Most importantly, it is stainless steel even years after you bought it. It also has excellent cooling and a safety lock to protect children from tampering with food and causing harm in the place.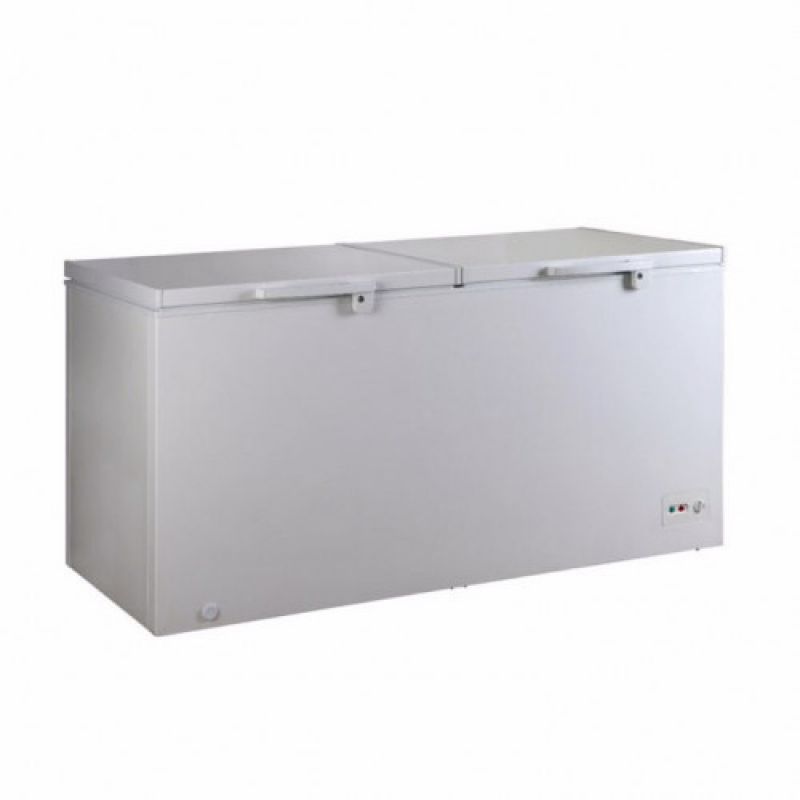 5. Midea horizontal Freezer 142 Liters – White (Mini Floor Freezer):
Do you need a compact floor freezer? Here are the best floor freezers in Saudi Arabia!
It is the smallest freezer size that can be placed anywhere as it saves spaces. Despite its small size, it accommodates many foods neatly thanks to the baskets inside. It is stainless with a white exterior structure. In addition, a small horizontal freezer provides electrical energy with a protection lock and handle for ease of use.
Get the Midea 142L horizontal freezer in white and take advantage of the discount period at Shaker Group.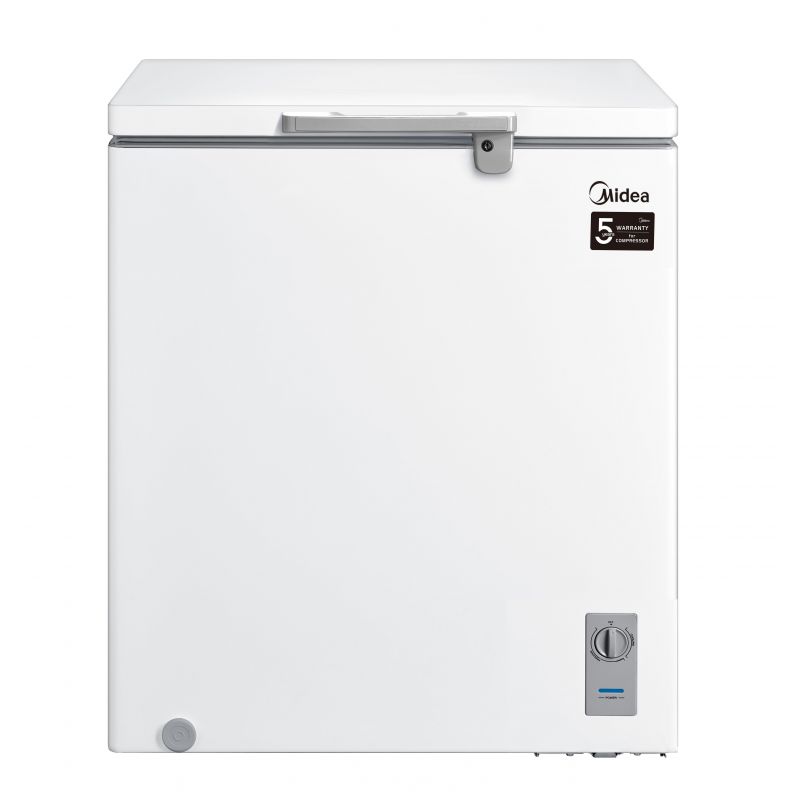 6. Midea horizontal freezer, 418 liters, white (large freezer):
Order now the Midea Chest Freezer 418L, White (Large Freezer), and rest assured that greed freezes in the best possible way!
It is a large media freezer suitable for families as it has a large capacity; it also has a handle and a protection lock; removable wire baskets inside that give you a neat shape for food for easy access at any time; an internal LED light; an external condenser for faster and better cooling; a high-quality stainless horizontal freezer; and it is easy to move thanks to its aerodynamic base and wheels.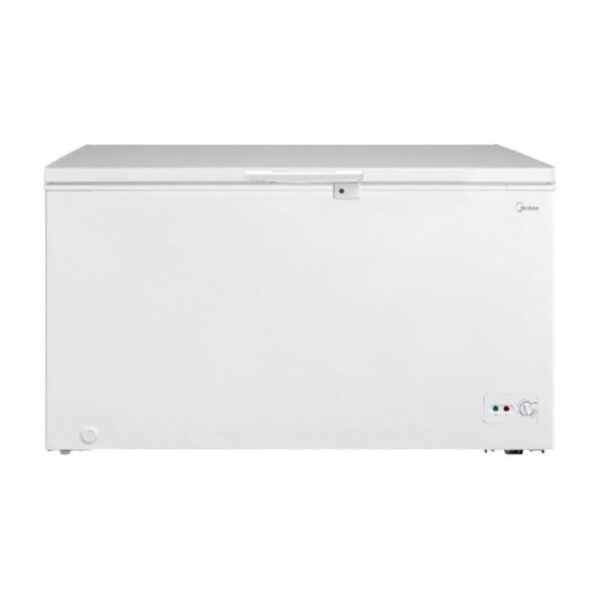 7. Midea horizontal freezer, 290 liters, white (medium freezer):
Midea horizontal freezers (290 liters) are one of the best deep freezers in Saudi Arabia. It is a medium freezer that can be placed anywhere other than the kitchen because of its elegant shape and ideal size. Its fast and strong cooling keeps foods fresh and maintains their nutritional values for a long time. As for its internal structure, it has a stainless steel movable basket with a handle and a front guard lock. You can take advantage of the defrosting technology provided by the best horizontal deep freezer.
Order now the Midea 290L Chest Freezer and guarantee the best cooling for your food!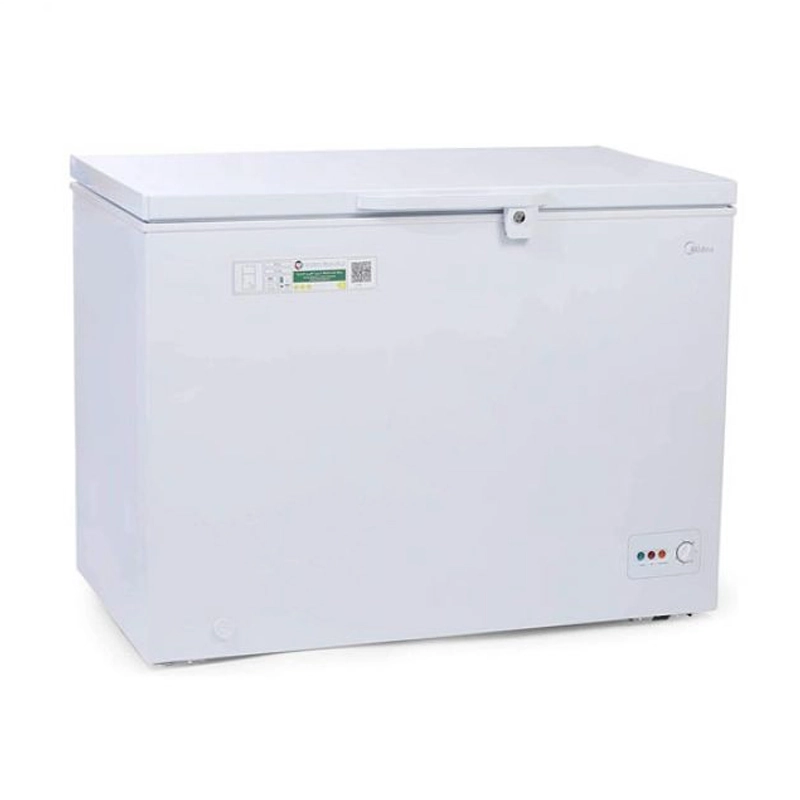 8. Midea chest freezer 198L, white (Midea chest freezer):
Try the cooling system in the Midea chest freezer 198L (white) and enjoy fast food freezing!
It is a box freezer with features that make it one of the best types of Midea horizontal freezers, in addition to its elegant shape that enables you to place it anywhere other than the kitchen; it has a handle and a front protection lock; its cooling system is very ideal as it distributes air to foods to leave them cold and fresh; and most importantly, it is a freezer at a very reduced price for its high quality.
Buy a chest freezer or vertical deep freezer refrigerator in Saudi Arabia
You can buy a horizontal or vertical deep freezer refrigerator in Saudi Arabia by ordering it directly from Shaker Electrical Appliances Company. This will enable you to get a freezer refrigerator that meets your expectations from a guaranteed source company.
Read also: The best refrigerator types and prices in Saudi Arabia, with pictures
Buy refrigerators in installments from Shaker Group
Buy a freezer refrigerator in installments from Shaker Group and reduce the hassle of paying cash at the same time. You can buy any of the types of freezers in installments in 3 or 4 installments according to your desire at a cash price without interest.
Safe and fast freezer shipping to all Saudi cities
When ordering any of the types of deep freezers, they will be shipped to any place you specify in Saudi Arabia quickly and safely. This will preserve the refrigerator from scratches as you receive it wrapped for double protection.
Read also: The Best Split Air Conditioners in Saudi Arabia | Shaker Group
Deep Freezer Price in Saudi Arabia
Prices for deep freezers in Saudi Arabia start at 1000 SAR and go up to 4000 SAR. Prices vary according to the size and type of refrigerator and freezer. Where you can get discounted freezers that suit your budget during the freezer sale.
Frequently asked questions about freezer types and how to use them
Here are frequently asked questions regarding freezer types and how to use them, which we advise you to see and use.
1. How do I choose the right deep freezer?
To choose a good deep freezer in Saudi Arabia, pay attention to each of the following:
1. Freezer brand and quality.
2. The amount of electricity consumed by the deep freezer
3. Deep freezer capacity, size, and shape as well.
4. The deep freezer price.
5. Freezer warranty duration.
6. The period of deep freezer offers and discounts.
7. The shipping cost and if it is free.
2. What's the best type of deep freezer?
The best type of deep freezer is the Media brand, so you can choose the Media Deep Freezer in Saudi Arabia with a guarantee that it is the best in all respects.
In conclusion, you can say that adopting one of the best media freezers from Shaker is the right decision to obtain a guaranteed electrical piece that maintains its quality for many years, especially if the Midea freezer refrigerator from Shaker Group is one of the basic parts in any home, so make your decision and order what suits you from cooling devices.
Source: