Learn in just 3 minutes about the best types of manual and vertical steam irons in Saudi Arabia. Take the best steam iron home at all because we introduce you to the specifications of a good iron. You will be able to compare the types and choose the one that is best for you according to your budget.
Manual and vertical steam irons will serve you in many household matters so that you and your family look neat and tidy as soon as possible.
Continue reading with us as we explain choosing the best steam iron!
Information about steam irons
We have collected information for you about steam irons that you need to see before buying a steam clothes iron to get a stylish look quickly before going to work, important interviews, or evenings and parties.
What is a steam iron?
The steam-generating iron, or steam iron, is one of the best types of ironing devices, but it is very similar to the traditional one. The main difference is that the steam iron's water tank is separate from the iron. This makes it wider, safer, and easier to fill. This iron relies on heating water and ironing with high-temperature steam technology, where the high temperature of the steam contributes to faster and better wrinkle removal.
Also find out: the best selection of steam iron types in Saudi Arabia.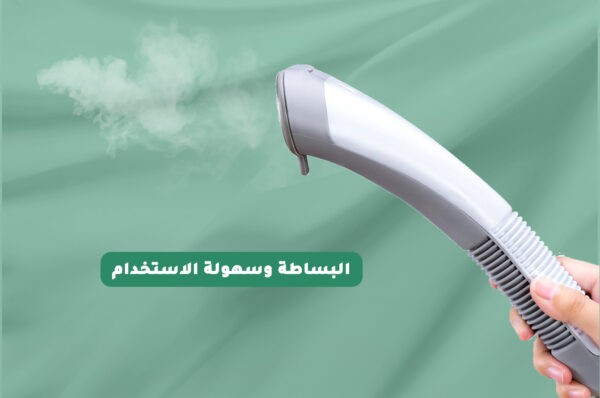 Benefits and uses of steam electric irons
As one of the most important electrical tools in any home for achieving a neat and tidy appearance in just a few seconds, the steam electric iron offers many benefits and uses. Here are its most important benefits:
Get a stylish professional look all day long because, unlike other types, vertical steam irons perform excellently.
Steam electric irons can be used to remove stubborn stains from clothes.
You can use the steam iron for your projects, such as drying flowers and colorful roses to put them in a special frame.
The ability to iron your curtains easily and quickly will make your home look sophisticated.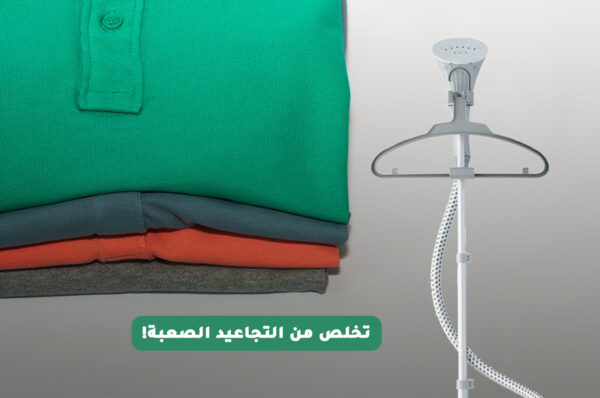 Advantages of steam irons from the shaker Group
Here are the most important advantages of a steam caustic shaker that you should pay attention to before adopting any of the types of electric irons:
The best and best type of steam iron you can find at Shaker Group is because it is the official agent of several brands of steam irons in Saudi Arabia.
The best types of steam irons for clothes are easy to use and give fast results. With just one swipe, you will get the best result.
A handy steam iron for travel and trips, as you can take a steam iron with you anywhere. It is easy to carry, transport, and store in any bag.
Small and vertical irons, whatever type of steam iron you want, you can find it at the Shaker Group.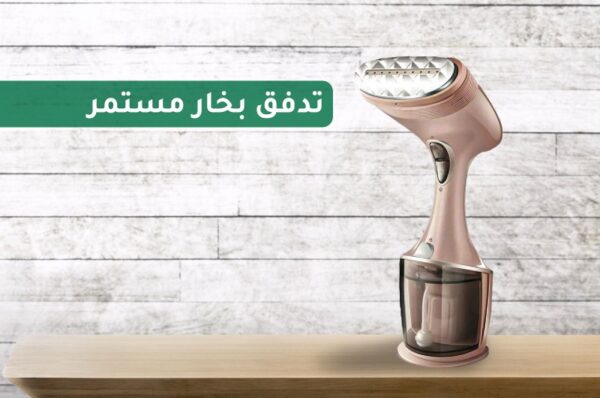 The best types of manual and vertical steam irons in Saudi Arabia
In the following lines, we recommend the best types of manual and vertical steam irons in Saudi Arabia. Ironing can be a very laborious and time-consuming task for most people, but with the latest technologies and great innovation in electric irons from the Shaker Group, ironing will not be that difficult. These steam irons are in great demand, as they give you the final touch in just a few minutes!
1. Midea steam iron with digital control, 1500 W-Brown:
Here is a manual steam iron, one of the best types of irons in Saudi Arabia!
One of its most important features is that it is separated by a certain period of non-use, besides being easy to carry, as it is a small travel steam iron with a stainless steel steam board that gives you stylish clothes in a jiffy. This is without the high temperature protection feature, which makes it a highly safe steam iron.
Order now the best manual steam iron and enjoy your travels and trips in stylish clothes!
2. Midea steam iron with 1.5-liter water tank, purple:
Get a vertical steam iron with advantages that provide great convenience in terms of reducing time and effort.
The best vertical steam iron comes with an automatic shutdown feature to provide double protection in case of closed or open pressure, and you can also use the best steam iron in both dry and steam modes, with temperature control according to three levels depending on the type of fabric, to get rid of clothes wrinkles very quickly.
Shop for the best steam iron from Shaker Group in Saudi Arabia
Get the best steam iron from Shaker Group in Saudi Arabia. Enjoy an easier and more beautiful life with a stylish appearance for you, your family, and your home. Shaker Group, a leader in electric tools, provides the best brands of steam irons with specifications and explanations. This is so that you can compare all types and choose the most suitable for you according to your needs and budget, with a lifetime quality guarantee.
Midea the best brand of vertical steam iron clothes
Midea is the best brand of clothes iron in Saudi Arabia, and its high sales have proven that it is of high quality, so a Midea iron is the best option that we recommend to you.
Prices for steam irons in Saudi Arabia
The prices of steam irons in Saudi Arabia range from SAR 100 to SAR 200, and they are an affordable price for the great comfort they provide.
Discounts on steam caustic prices
Take advantage of the discounts on steam caustic prices through Shaker Group in Saudi Arabia, which reach up to 40%. This will enable you to save a lot when buying a media-brand steam iron.
Buy a steam laundry in installments
You can buy a steam laundry in 4 installments at the cash price. This means you will not pay any additional riyals when ordering it from Shaker Group, the best Saudi company.
Free delivery of steam and electric iron
Get the advantage of free shipping on steam and electric irons when ordering from Shaker Group, wherever you are in Saudi Arabia, and do not worry about additional costs.
Also read: the best air purifiers and air cleaning in Saudi Arabia
Frequently asked questions about steam iron choices:
Here are the common questions regarding how to choose a steam iron in Saudi Arabia, which you will definitely need to see because they are important questions needed by others who have decided to buy a new steam iron.
What are the uses of a vertical steam iron?
The vertical steam iron is versatile due to its ease of ironing through it; its quality, design, and the power of the steam released make it ideal for ironing clothes in various forms in a very short time; curtains, covers, and various types of fabrics can also be ironed.
What is the difference between a regular iron and a steam iron?
The difference between ordinary and steam irons is that the steam iron reaches the required temperature faster, and its tank is wider. In contrast, ordinary irons have a thick base as one of their advantages, but any excessive rise in temperature leads to damage to the piece you are ironing.
Is a vertical steam iron practical?
If the vertical steam iron is qualitatively practical, that is, it is practical with suitable fabric materials, such as heavy fabrics or jeans. It is also difficult to carry and move during travel. For example, you can choose a small steam iron for travel.
Which is the best steam iron or press?
Both are good in their proper places; that is, the steam iron is good for removing bacteria from clothes and curtains and is also practical when you want to shorten the time. In contrast, the pressing iron is excellent for jeans and thick fabrics and can also be carried and moved around.
How do I use a vertical steam iron?
You can use a vertical steam iron as follows:
1. Fill a quantity of water into the designated trough in the iron and disconnect it from electricity.
2. Wait for a few seconds for it to reach the desired temperature after connecting it to electricity.
3. Spread the piece of clothing on the ironing board and make sure that the type of fabric is suitable for the iron.
4. Spray water on the piece's curls, making it easier to iron.
What is a steam-pressed clothes iron?
The steam-pressed clothes iron is one of the most practical and convenient types of ironing devices that will serve you, as the best iron irons clothes made of thick or winter fabric in general.
What is the best vertical steam iron for clothes?
The best vertical steam iron for clothes is the one that you can use very quickly, as it reaches the desired temperature in just a few seconds, and its size and stainless steel steam structure play a big role in its quality.
At the end of our conversation about steam iron types in Saudi Arabia, we advise you to adopt one of the types that we have nominated for you, as it is one of the best-selling electric steam irons due to its high quality and the great comfort that it gives everyone who has tried it.
Source: