A water boiler, like other electrical appliances, saves time and effort. In this article, we will discuss the best types of electric water boilers and their uses in Saudi Arabia in 2023.
Since a water boiler, also called a water kettle, is used daily by both individuals and families, it is essential to choose a high-quality and healthy option that ensures the water does not interact with metal components. An electric tea heater also becomes important not only for its convenience but as well for its ability to prepare a variety of beverages quickly, easily, and safely. This is especially when children are present.
Take just 3 minutes to read this article, and you can select a durable, high-quality water boiler that lasts for years. Discover the best-selling water boiler options available in Saudi Arabia today!
Information on an electric water boiler and its uses
Before purchasing an electric water kettle, it is crucial to review essential information and understand its various uses.
Also discover: The best Electric Kettle in Saudi Arabia
What is an electric water boiler?
An electric water boiler, also known as a kettle pot, is a versatile appliance that comes in various sizes. It is designed to quickly heat water and maintain a constant temperature. This device is suitable for preparing a range of hot beverages, including coffee, tea, and baby milk. Additionally, it can be used to cook certain foods, such as boiling eggs or preparing pasta. It can also be used for any other uses that require hot, clean water.
Electric water boilers are popular in Saudi Arabia, with some models featuring built-in water purification systems as an added bonus.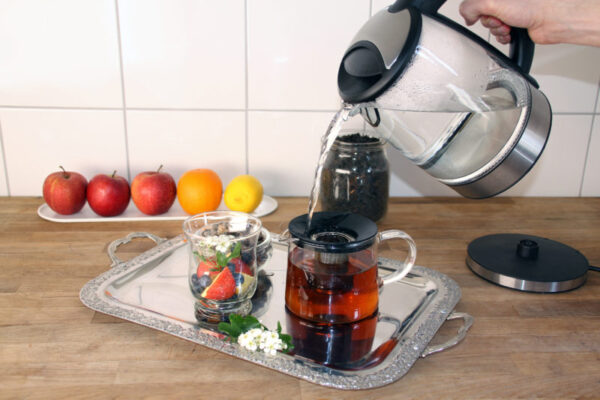 How does a water boiler work?
The water boiler functions by converting electrical energy into thermal energy, which is then utilized for heating and boiling water. At the base of the water kettle, you will find a spiral-shaped metal component known as an electric coil or heating element. This element serves as an electrical resistor, impeding electricity flow in the circuit and generating heat for warming the water. When an electric current passes through the socket and into the coil, it heats up, transferring its temperature to the water and causing it to rise.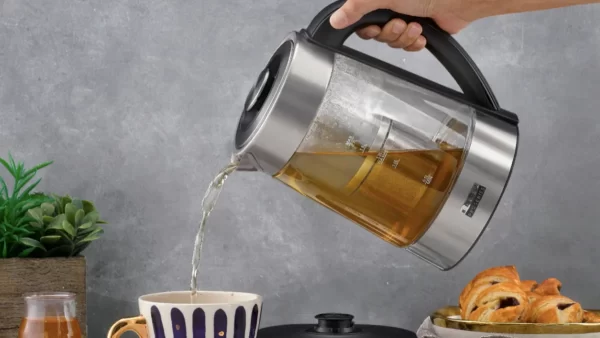 Using of an electric water boiler
Here is a list of the most common uses of electric water kettles in Saudi Arabia, including:
Preparing hot drinks. It is the primary use of water boilers. Simply heat the water and enjoy your favorite beverage.
Adding hot water to meals It is another common use for water boilers. Many foods, such as noodles and soups, require boiling water.
Quickly and easily boil eggs. It is especially useful when preparing breakfast before leaving for work or after returning from the gym.
Cooking small amounts of rice quickly after soaking it ensures you thoroughly clean the kettle after use.
Heating milk for your baby quickly and easily, with the possibility of adding chocolate for a tasty twist.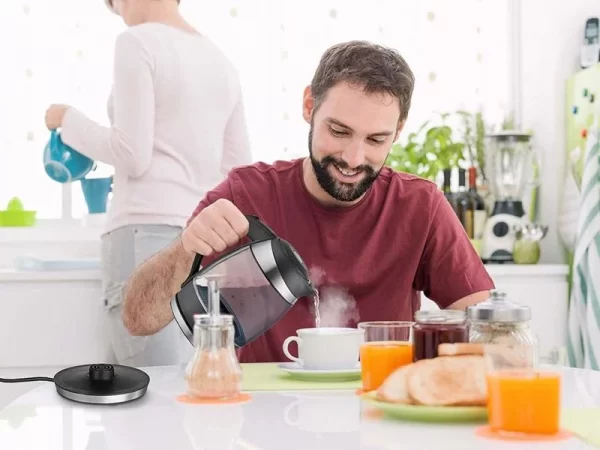 Top Types of Electric Water Boilers in Saudi Arabia
Many individuals face time constraints as life becomes increasingly fast-paced, leading to various challenges. Owning one of the best electric water boilers in Saudi Arabia can significantly simplify your life by reducing the time and effort required to prepare a variety of beverages. This is both at home and in the office. An electric tea kettle also aids in cooking, as it provides boiling water instantly without waiting time.
We have compiled a list of the best electric water boilers based on their popularity and exceptional quality in Saudi Arabia.
1. Electric Media water kettle 1.7-liter, Silver:
Upgrade your kitchen with a 1.7-liter electric water kettle that you won't want to be without!
This versatile electric water kettle is a valuable addition to any space, providing convenience and efficiency. It is practical, easy to use, and safe, as it automatically disconnects from power once the water reaches boiling point. The kettle also features an elegant design with a comfortable grip and an easy-to-open lid that allows for simple, spill-free pouring.
In addition, the electric cord can be stored neatly at the base of the kettle, ensuring a clutter-free appearance in your kitchen or office.
Constructed from health-conscious stainless steel, this energy-saving electric kettle is a top choice among Saudi citizens.
2. Media wireless electric kettle 1.7-liter, light blue:
Introducing our 1.7-liter wireless electric media kettle, designed to be your reliable companion throughout the day!
We confidently claim that this wireless kettle offers numerous benefits to make your life easier. Equipped with a range of features, it is practical and convenient and promotes a healthy lifestyle. Boasting a stylish, unbreakable exoskeleton, the kettle efficiently retains heat while remaining cool to the touch. Additionally, the easy-to-open lid and comfortable handle prevent water leakage while pouring.
Don't miss the opportunity to enhance your daily routine – order the best shaker kettle available now!
Read more: The best home water coolers in Saudi Arabia
3. Media wireless electric kettle 1.7-liter, light green:
The 1.7-liter Media Wireless Electric Kettle is among the top electric water boilers available in Saudi Arabia. This high-quality kettle quickly and safely heats water while conserving electricity.
Utilize an electric water kettle to prepare hot beverages throughout the day. Furthermore, expedite your cooking process by using hot water directly from the impressive media kettle for dishes such as pasta, soup, and more. Rest assured, this kettle saves on electric bills and simplifies your life with the push of a button.
Designed for durability and optimal efficiency, the Media Wireless Electric Kettle is an excellent investment in your kitchen. To ensure its longevity, clean it with water. Its easy-to-clean feature makes it a practical choice at an affordable price.
4. Midea wireless electric kettle, 1.7-liter, silver:
It is the top-rated 1.7-liter water kettle in Saudi Arabia and a must-have for any home or office since it features healthy features and practicality.
This cordless water kettle heats water at the touch of a button. It features a sleek stainless steel construction that makes it both stylish and durable. Designed with a comfortable handle, it is highly efficient at providing electric power. Its ability to retain heat for extended periods reduces the need for frequent use throughout the day, conserving energy in the process.
5. Midea electric water kettle, 1.7 liters:
If you're looking for a large 1.7-liter water kettle that offers superior performance and exceptional features, this kettle is perfect for you!
The top-rated Moi kettle is designed with an innovative indoor heating system that minimizes its external dimensions, making it an excellent choice for a tea electric heater. With a 360-degree rotating base, a comfortable handle, and a secure sealant cover, this energy-efficient kettle boasts durable stainless steel construction that will last for years to come.
6.Media digital water kettle, 1.7-liter, white:
Introducing a compact yet highly efficient water kettle, perfect for enjoying hot beverages all day long!
This elegant electric kettle features a sleek white design and an easy-clean structure.
Experience rapid water heating without concerns, as the kettle automatically shuts off when the water reaches boiling point. It's ideal for late-night gatherings with family and friends thanks to its comfortable handle and lightweight design, making it easy to carry. Plus, the electric kettle's airtight lid ensures effortless pouring.
Don't miss out on this incredible water kettle; get yours today and elevate your hot drink experience!
See also: Best air purifiers and air cleaners in Saudi Arabia
The best company for selling electric water boilers in Saudi Arabia
Shaker Group is the leading electric water boiler company in Saudi Arabia. It offers high-quality, healthy water boilers, carefully selected to ensure the best products for their customers. With competitive pricing and numerous benefits, one of the most significant advantages is the option to divide your bill into four equal payments at the cash price. This is without incurring any interest charges.
Features of Electric Water Boilers from Midea
Midea electric water boilers offer numerous advantages, making them one of the top choices for water boilers in Saudi Arabia. Here are the most significant benefits:
They are available in various sizes to accommodate individual or family needs, whether for home or office use.
They are extremely safe, featuring an automated stopping function to prevent overheating or dry boiling.
All Media water boilers are healthy thanks to their sediment-resistant metal structure.
They are easy to clean, saving you extra time throughout the day.
They feature a durable stainless steel structure.
They are energy efficient.
They include an indicator to display the remaining water level and temperature details.
They come in stylish, modern designs, adding elegance to any space.
They come at affordable prices.
They are available in 4 installments at cash price, exclusively through the Saudi Shaker Group.
Home or Office Water Boiler Benefits (Electric Boiler Benefits)
The numerous benefits of water boilers in homes, offices, and companies make them a popular choice in Saudi Arabia. Here are some of the most significant advantages of using water boilers:
Energy efficiency: Water boilers are more energy efficient compared to other heating methods.
Time-saving: Using a water boiler saves time and effort, as it eliminates the need to wait for long periods for water to heat up.
Rapid heating: Water boilers can heat large quantities of water in a short amount of time.
Aesthetic appeal: Available in various designs and sizes, water boilers can enhance the appearance of both kitchens and offices.
Easy to clean: Water boilers are easy to clean, saving time and effort.
Safety and ease of use: Water boilers are safe and user-friendly, with automatic shut-off features when necessary.
Convenience: A cordless water boiler is a wise investment, offering convenience and energy efficiency.
Health benefits: Modern water boilers are made of stainless steel and provide purified water, ensuring a healthy choice for users.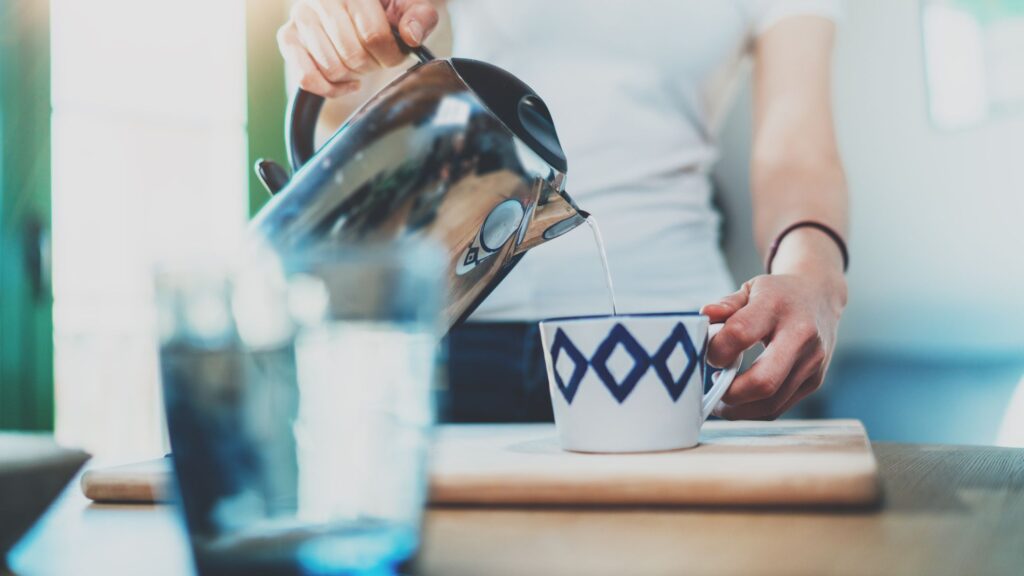 Buying an electric water boilers in Saudi Arabia
You can purchase a high-quality electric water kettle in Saudi Arabia by ordering it directly from the top-rated Shaker Group. By doing so, you can be confident that you are obtaining the best water kettle from a reputable company, as they supply authentic water kettles throughout Saudi Arabia.
Free shipping to all Saudi cities
Shaker Group provides free shipping to all cities within Saudi Arabia, including Riyadh, Jeddah, Dammam, and other locations across the Kingdom. You can order essential electrical appliances, such as water kettles, air conditioners, screens, and many more items, easily and conveniently.
Read also: The best split air conditioners in Saudi Arabia Shaker Group
Interest-free water boiler installment
Purchase a variety of water boilers now through Shaker Group in Saudi Arabia, with the option to pay in interest-free installments. Choose between paying in cash or in four equal installments at the same price, without interest charges.
FAQs on types of electric water boilers
Here are the most frequently asked questions about the various types of electric water boilers available in Saudi Arabia. This information will help you make an informed decision without feeling overwhelmed, as it addresses the majority of your concerns.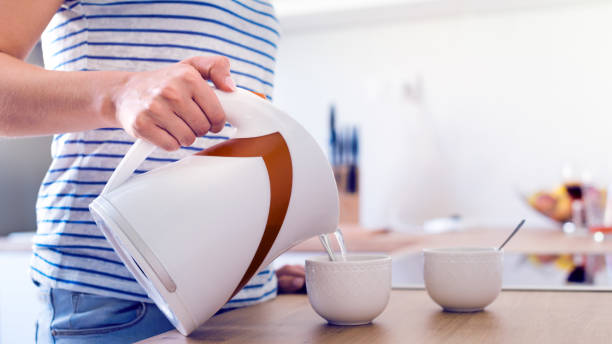 1. Does the water kettle have damage?
The water boiler remains undamaged, because it is made of high-quality materials and features excellent metal that prevents interactions and sediment buildup. Regular cleaning is essential to prevent water boiler damage.
Modern sanitary water boilers are designed to eliminate potential issues, as they filter and maintain water quality. This is due to the superior materials used in their construction.
How do electric water boilers work?
The electric water boiler functions by transforming electrical energy into thermal energy, which is then utilized to heat water or other beverages. This process involves a metal component that efficiently conducts heat, transferring it to the liquid that needs to be warmed.
3. How do I use the new water boiler?
To use the new water kettle, follow these simple steps:
1. For the first time, boil the water twice and empty it after each boil.
2. Ensure that the electric socket is kept away from the water and the kettle outer structure.
3. Place the water kettle on a stable and level surface to prevent sliding.
4. Stay nearby while the kettle heats
5. the water, as it heats quickly.
6. To maintain cleanliness, clean the water kettle or tea kettle with vinegar once a month and with clean water daily.
4. How does a kettle work without wire?
The cordless kettle operates by connecting to a separate base, where it heats up when placed on it. The kettle automatically detaches when the water reaches boiling point or if there is no water inside.
5. Is a kettle electricity-consuming?
Yes, an electric water kettle consumes electricity, but you can choose advanced, energy-efficient water boilers to decrease your electric bills.
6. How Much Does a Tea Kettle Cost?
The price of tea kettles in Saudi Arabia ranges from SAR 70 to SAR 150, based on many factors such as size, capacity, and other specifications.
7. How Many Watts Does an Electric Water Boiler Have?
They typically range from 700 to 3,000 watts, depending on their quality and size.
In conclusion, water boilers provide a convenient and efficient way to enjoy hot beverages while working or studying, without long waiting times. Therefore, selecting one of the best water boilers is a wise choice, as they are among the top-selling products in Saudi Arabia due to their superior quality and performance.