In this article, we discuss the best types of gas stoves and electric stoves in Saudi Arabia in 2023. If you intend to buy a new ceramic electric gas Read on in just 3 minutes and make sure that you can choose the best electric stove after knowing the advantages available as well as seeing the types of gas ovens with the best-selling electricity in Saudi Arabia.
This information was written under the supervision of technicians at Shaker Group, specializing in household electrical appliances in Saudi Arabia, so hundreds of Saudi families have already tried one of these stoves. And now we will help you choose the best gas stove or electric stove for your home!
Information on electric gas stoves
There are a number of differences between gas stoves and electric stoves, each with a number of different advantages. Gas stoves depend on live flames and direct fire, which most chefs prefer, especially for easy heat control. Some people skimp on power stoves for easy cleaning and elegance.
See also: Saudi Arabia's best-selling power stoves with specifications and prices
Advantages of electric surface gas stoves
Electric surface gas has many advantages; here are the most important:
Elegant appearance, electric gas has a smooth surface and uniform black color.
Boutaz ensures angioplasty electricity with its flat head and circular diameter, which makes it practical and comfortable during use.
With economical ceramic electric gas, you pay once and it's over. In contrast, other types of stoves will cost you more to fill the tank with gas.
Discover also: the best electric stove in Saudi Arabia.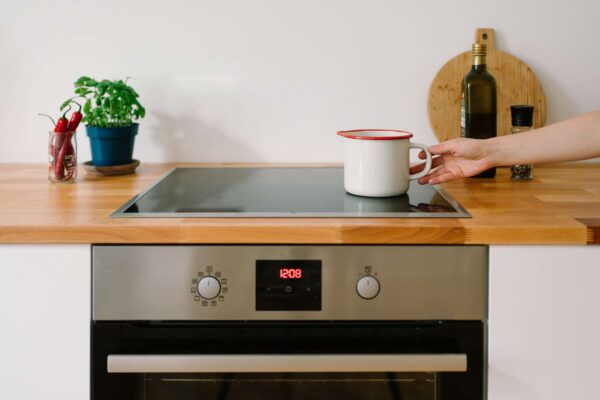 Types of electric stoves by burner number
Here are the types of electric burners according to the number of burners in Saudi Arabia:
Two-ton surface electric oven.
With 4 ceramic flat burners.
Electric oven with 5 burners.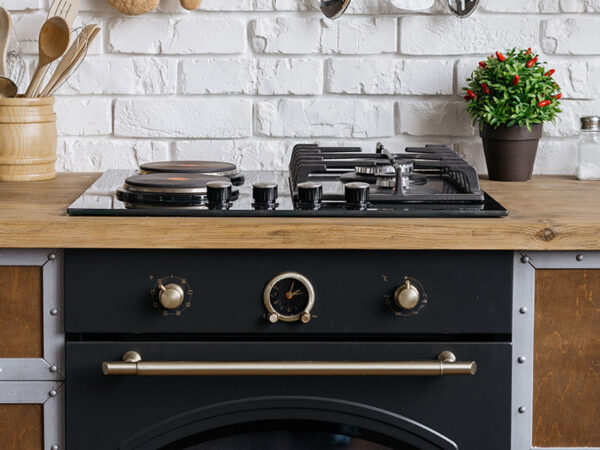 Ceramic electric gas prices in Saudi Arabia
Prices for ceramic electric gas in Saudi Arabia range from 1,500 SAR to 7,000 SAR. In addition to the brand and other advantages, you can choose the number of burners with the electric gas you prefer.
The best types of electric ceramic ovens in Saudi Arabia
Here are the best types of electric ceramic ovens in Saudi Arabia as a basic household piece in any kitchen and as it plays an important role in helping the housewife prepare the most delicious food, most importantly from the pieces you buy once to last you years. So we have gathered for you the best stoves that have proven to be efficient, so you can compare them in terms of advantages and prices and then choose the one that is most suitable for you.
1. Ariston electric stove, 2 burners, silver:
Get the best electric surface oven with two eyes in Saudi Arabia and ensure perfect efficiency!
A small-eyed electric bouquet comes with the advantages of making it your right hand at home because it enables you to control the heat you want with a small size to put it anywhere without taking up a wide space. It is easy to use and clean, making it an elegant touch in your kitchen.
Now order a two-burner rooftop electric oven at a significant reduction from the shaker set.
2. Ariston electric stove, compact ceramic, 2 burners, black:
It is Saudi Arabia's best superficial 2-burner electric stove in an elegant black color for your kitchen!
With a high level of safety and 6 levels of accurate temperature control, this 2-burner flat electric stove brings a great aesthetic touch to your kitchen. In addition, it is very easy to clean.
Read also: Best types of compact electric ovens in Saudi Arabia
3. Pompany electric 5-burner vitro ceramic stove, silver:
The best 5-eye electric gas is the perfect gas for your kitchen, which compensates you for the rest of the stoves. All you have to do is allocate a suitable place for it near an electrical socket. Enjoy preparing your meals without harmful natural gas. It is possible to offer a ceramic electric stove as a gift to two newlyweds that will complement their home at a very economical price.
Now order a five-eyed electric gas oven during the cut-off period, leaving only 3 pieces of this stove.
4. Built-in ceramic 5-burner electric media stove, black:
The best electric gas comes with high efficiency and a reduced price across the shaker range, as well as:
A 5-burner electric stove with perfectly refined sizes of different burners and a touch control panel. It is easy to clean and install. In addition to its size, it is ideal for medium kitchens. The eyes of an electric oven come with 5 burners camouflaged in red to serve as a burner warning for heat. This raises its safety level.
5. Electric Mittage gas, 4 burners, white:
The 4-eye electric gas stove features a traditional gas stove shape, but its smooth surface and flat circular eyes make it more elegant and functional. It has easy cleaning and an elegant shape that is perfect for most kitchen decorations. The presence of a built-in gas makes it the best 4-eye electric gas stove in Saudi Arabia.
Order it now and ensure comfort and efficiency for many years.
6. Midea built-in electric hob, black:
It is the best ceramic electricity gas in Saudi Arabia!
Flat electric ceramic stove 4 burners, with a stylish appearance and glossy glass covering its surface, in addition to the red color that characterizes the eyes of an electric oven, which makes children alert to the heat of the gas do not approach, and the control panel depends on the touch.
7. Media electric ceramic stove with multi-functional, 5 burners, silver:
Choose a 5-burner ceramic gas oven and be confident that you have chosen the best efficiency at the most appropriate price with multiple advantages that will give you great comfort in your working life while preparing various foods.
Ceramic stove 5-burner with a stylish silver-colored electric oven has a large size that fits a family kitchen. For those who prefer gas stoves. This is not to mention that the oven is provided from the inside with two bulbs to follow the food level without opening the oven.
8. Ariston compact electric stove, ceramic, black:
The best ceramic surface oven in Saudi Arabia with efficient durability!
It occupies very little space and does not need much electricity. It is an economical space and does not need much electricity. It is economical. It has a stylish and shiny appearance and touch buttons for added luxury. You can control them with heat levels, operation, and extinguishment.
Guidelines for flat electric burner use
When dealing with an electricity-based device, you must be very careful and follow various instructions, so here are the most important guidelines for using a flat electric burner:
Avoid cooking on a broken or cracked stove surface. This may expose you to electric shock.
Avoid touching electric surfaces or gas ovens or placing a metal spoon or other tool near them.
Dishes or saucepans should not be placed on an electric stove unless thermal.
Be vigilant that children do not approach it; they will not realize how hot the surface is, especially since there is no firearm that alarms them.
Avoid steam cleaning the stove surface.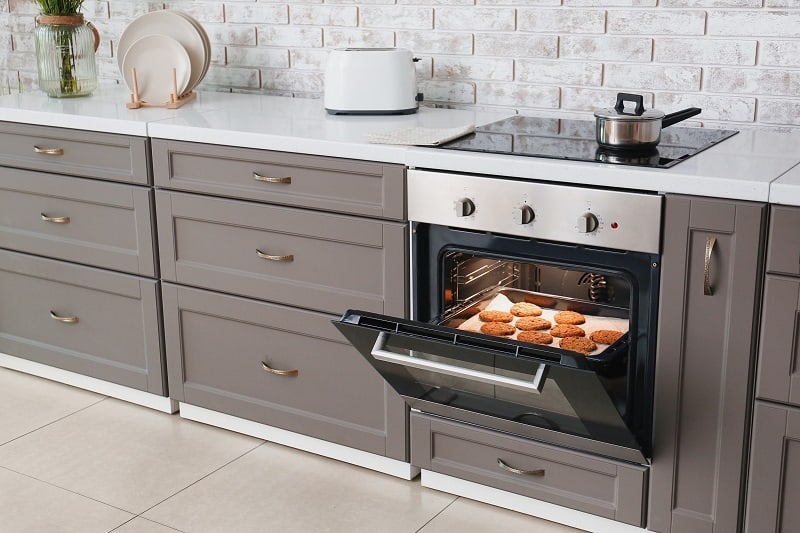 Shaker Group to buy ceramic gas stoves and electric stoves
Shaker Group for the Purchase of Ceramic Gas Stoves and Electric Stoves is one of the best electrical appliance companies in Saudi Arabia. This is in terms of product quality and discounted prices.
Advantages of electric ceramic stoves from Shaker Group
One of the most important advantages of electric ceramic stoves from Shaker Group is that:
With electricity breaks, high efficiency will serve you for many years.
Boutaz Electric Design's stylish shaker set adds aesthetic touch to your kitchen.
All ceramic electric oven displays are of high quality and feature advanced technology in heat level control.
With an electric takeaway through the shaker set, it is very easy to clean thanks to its smooth surface.
Free shipping on electricity stoves anywhere in Saudi Arabia.
Buy an electric oven in 4 installments at cash price.
Read also: Best microwave devices with grill in Saudi Arabia
Sale and offers on ceramic electric stoves prices
Shaker Group Saudi Arabia offers discounts and offers on the price of ceramic electric stoves of up to 40%.
Free charging for electric and gas in all Saudi cities
Take advantage of the free charging feature of electric Butugas in all Saudi cities by ordering from Saudi Shaker Group.
Installment of electric ceramic stoves in Saudi Arabia
Order electric ceramic gas installments in Saudi Arabia in 4 installments and at a cash price without paying extra Riyal.
FAQs about electric ceramic stoves
Common questions about different gas stoves abound due to their importance and daily use. Here are some of the most common:
1. How to clean electric gas and electric gas?
To clean electric gas and electric stoves, you need a clean dry mop, water, and baking soda. All you have to do is make sure the stove is cool and then wet it with some water without touching the electrical wire, then spray with baking soda and let it sit for a while, wipe it with a towel and repeat the process until you get a fully clean stove. Make sure the stove is dry before restarting and using it.
2. How do I use an electric stove?
You can use the electric burner by rotating the disk at the temperature you want. You can also wait a few seconds for the heat to be distributed in sync with what you want to prepare on the electric burner. When finished, return the disc to grade 0 and avoid touching it before cooling.
3. What is the cheapest electric or gas stove?
Gas and electric stove prices vary in Saudi Arabia due to brand, quality, and additional advantages. However, gas stoves are the cheapest electric stove.
4. Is an electric stove better than gas?
An electric stoves are better than gas stoves as it is more efficient and safer. Many people prefer gas stoves. It is up to personal preference as long as you choose a guaranteed electric or gas stove brand known in Saudi Arabia.
5. Is electric stove safer than gas?
Although electric stoves also require you to wake up and pay attention, they are safer than gas stoves. These stoves carry higher risks of gas leaks. In order to stay safe, you need to choose a well-known gas or electric stove company that guarantees its products, such as Saudi Shaker Group.
In conclusion, we advise you to adopt one of the electric or gas stoves we have nominated for you. This will get rid of the confusion and ensure the best quality purchase for your home. This is because all the previous types of best-selling stoves in Saudi Arabia have proven their efficiency, and sales have repeated themselves. So order what works for you now and take advantage of the discount period before it ends.
Sources: