Discover the best microwave devices with grills in Saudi Arabia for 2023 to compare their prices and shapes.
Here we will nominate the best and most selling microwave oven for food heating in Saudi Arabia, which has proven the quality and practical use of many housewives, knowing that all information received about microwave cooking devices was written under the supervision of Shaker Group, the leading company in the sale of household electrical appliances.
And now let's get started!
Information about Shaker's microwave
Here's some information you need to know about the microwave:
Microwave ovens heat food using microwaves, a form of electromagnetic radiation.
Microwave ovens have three characteristics that make them suitable for food heating.
Its waves pass through glass, paper, plastic, and similar materials and are absorbed by food.
They cause water particles to vibrate in food. This vibration results in friction between molecules, resulting in heat heating food.
See also: The best microwave collection in Saudi Arabia.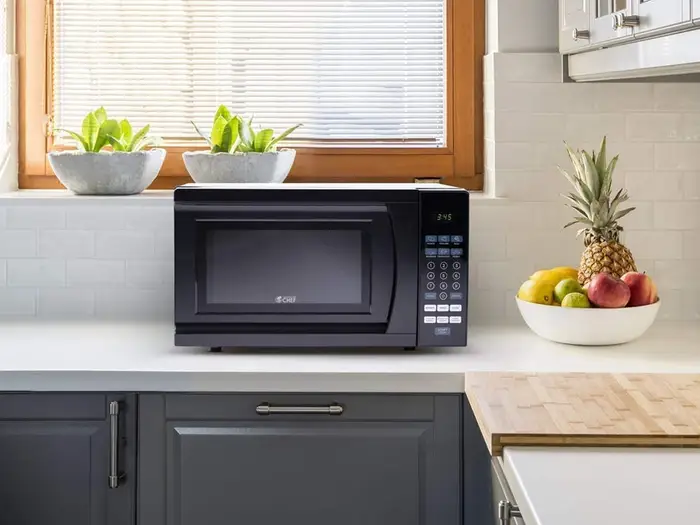 Microwave advantages of Shaker Group
The advantages of the Shaker microwave are many; here are the most important:
Having a digital LED display in most kinds of microwaves with a grill.
Durable structure and elegant design are suited to high-end Saudi kitchens.
Various capacities are available in the microwave oven at will and according to the number of family members.
High-quality stainless steel for the stainless or corrosive industry.
Free delivery to all Saudi cities.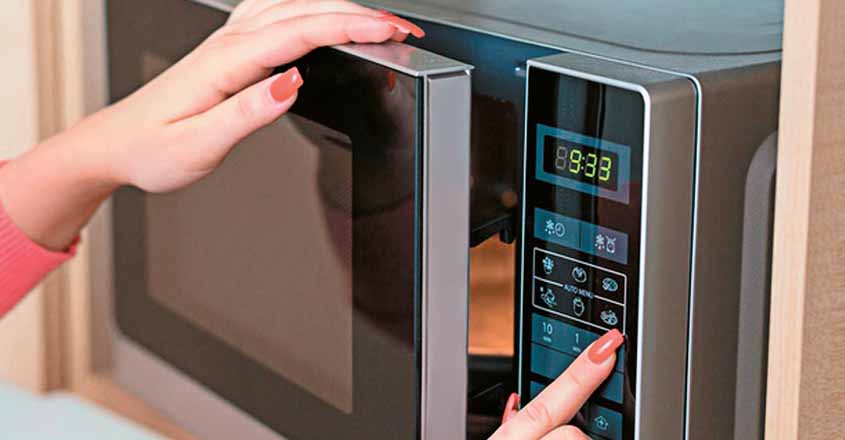 Types and sizes of microwave ovens in the Shaker Store
Here are the kinds and sizes of microwave ovens in the Saudi Shaker Store:
Microwave Midea oven (20-liter).
Ariston built-in microwave oven with 25-liter grill.
Digital Midea microwave, 28-liter.
Built-in microwave by Midea with a 30-liter grill
Microwave Midea oven 42-liter.
Microwave LG with Smart Inverter 42-liter capacity.
LG Microwave New Schiff 25 liter.
Microwave oven with 56-liter smart inverter capacity.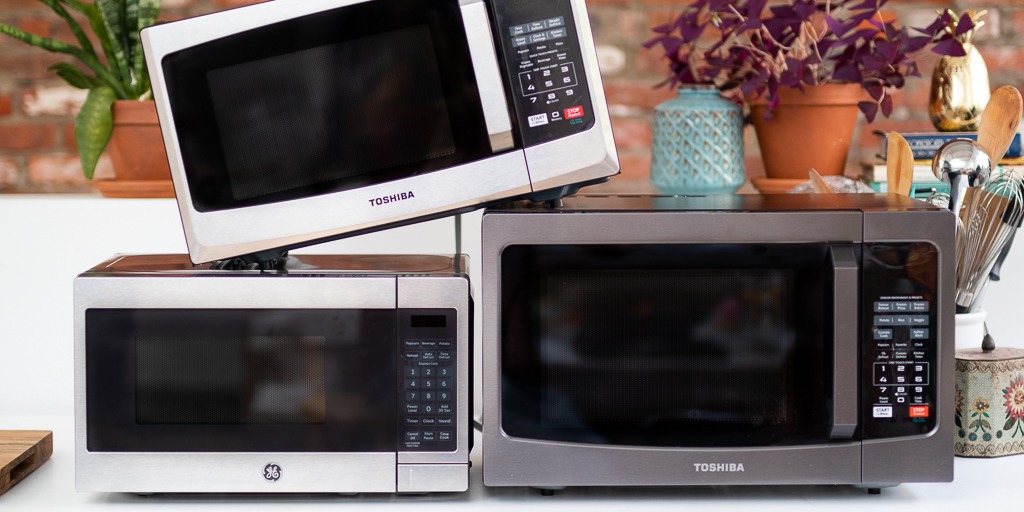 The best and latest microwave devices with grills in Saudi Arabia
Microwaves with grills in Saudi Arabia are indispensable in any kitchen because they save time and effort. They heat the food in a few seconds without any extra effort for the housewife to heat the food in normal gas ovens. They then clean the stove and dishes. Thus, microwaves are a very useful piece of electricity for the kitchen because of their speed at heating food. They are safe for children if they want to heat their meal while a parent is busy.
Here are the best and latest microwave devices with grills in Saudi Arabia:
1. Ariston built-in microwave oven with 25-liter, silver grill:
Prepare the tastiest hot and fresh food in a microwave with a grill and oven.
By using the Ariston 25L microwave, you can spend more time on your job without worrying about returning late to work or preparing a variety of dinners. The Ariston 25-L microwave has a stylish, modern design and is durable. Along with the automatic protection system, the laser screen displays the hour and time. Do not worry if your hand is wet; open its door.
2. Microwave Midea Oven, 20-Litre, White:
Order the best cheap microwave from Midea and save a lot during the limited discount period via Saudi Shaker Group.
Whether your family is large or small, with a small 20-liter microwave with its elegant design, you can prepare your breakfast quickly if you arrive late. In addition, you can sanitize your baby's tools in seconds by placing them in the microwave with water and salt. The microwave has a control panel based on rotary keys that is easy to control.
3. Microwave Midea oven, 42L, Silver:
Buy the finest microwave branches and ensure efficiency.
Make your meals while doing chores using the best microwave in Saudi Arabia. It will give you an ultimatum when you finish heating or cooking. You can grill a whole meal for your family without dividing it into smaller portions. It has a capacity of 42 liters and an automatic lock that protects your children when approaching it.
4. Digital Midea microwave, 28L, 900W, white:
Shop for the best cooking and heating microwave in Saudi Arabia and leave your right hand in the kitchen.
Relying on a safe microwave for children from Midea to prepare your children's meals as they return from school. If you work outside the home, you can teach your child how to use it. It is completely safe for children, and it has automatic locking to protect them. Place the meal, wait for the dish to rotate a little, and your meal will be ready in a few seconds. You can also use the microwave to unfreeze meat and dissolve ice in vegetables very quickly.
5. Built-in electric Midea microwave with 30L, 900W, silver grill:
Bring the latest microwave with a grill and enjoy its medium size and economic price across the shaker range.
Press the unlock button with its stainless steel interior. The microwave has an elegant design and a black glass door that adds fashionability to its shape. Also, thanks to the five energy levels, you can control the level of your cooking on the one hand and the quality of baking your cake on the other. Automatic digital protection cannot be ignored. Don't worry about your child anymore. You can trust them to heat up meals while you set the dining table.
6. Midea electric microwave with 30L, 900W, silver grill:
Shop for the cheapest microwave brand with a grill and get the perfect grill without an outdoor stove.
The electric Midea microwave has multiple functions that make it the most important electrical device in your kitchen. Use it for barbecues, heating, freezing food, ice, boiling water, and many other uses. With a 30 liter Midea Microwave, it is the best microwave type in Saudi Arabia. It features 7 different programs, despite its durable industry and medium size.
Browse also: Best Gas Stoves in Saudi Arabia
7. Midea electric microwave with 30L, 900W, silver grill:
Get the best 30-liter midi microwave and benefit from current discounts at Saudi Shaker Group.
Don't worry about heating up your food anymore with a 30-liter Midea microwave, which keeps your meal fresh and nutritional. It also features a barbecue feature where all you need to do is chop what you want to grill into medium pieces. Then, arrange them on the grill attached to the microwave. Among the best features of the microwave is its child safety lock.
8. Midea electric microwave with 42L 1100W grill, White:
Buy a large 42-liter microwave with a grill and enjoy its high quality and outstanding properties.
Heat up the family meal with the dish you want without dividing the amount thanks to the large size of the 42-liter microwave from Midea. You can enjoy a delicious grill with a barbecue feature that keeps your food's nutritional value effortless and faster. The best microwave with a grill has a durable base that prevents it from slipping. It is equipped with an automatic protection lock for children, making it completely safe for them.
9. Digital Control Midea Microwave 20-L, 700W, White:
Order a 20-liter Midea microwave and get the tastiest hot meals in a few moments.
Invest your time and bring food to your children as you return from work without worrying about using this electric microwave. Simply place the frozen meal in the microwave for a few minutes. They will be ready as they arrive, or you can cook spaghetti with cheese and sauce directly in the microwave. It features a white color and a durable handle, and the electronic panel is simple, so you can easily control it.
10. Midea microwave with digital control, 25-liter silver barbecue:
Choose a 25-liter Midea microwave, which is the best microwave size in terms of capacity and elegant shape.
With a non-traditional microwave with a full stainless steel surface, you can prepare various meals for the family at once and in standard time. The barbecue feature ensures full coverage on all sides. You can unfreeze the food in a few seconds, bake your child's birthday cake, and prepare dinner at the same time.
Find out also: the best microwave range in Saudi Arabia.
11. Microwave LG with Smart Inverter function, 42 liters:
The LG microwave provides you with accurate temperature control, taking into account the quality and heating of the food, as well as its beautiful shape that fits with the decor of your modern home. It also provides the advantage of air frying to cook and prepare food with as little as 72 percent fat when making fries.
Shop the LG microwave and enjoy perfect food heating and cooking every time.
12. Microwave LG with smart inverter function, 25 liters:
Choose LG microwave and get hot meals with little energy consumption.
With its state-of-the-art features, the LG microwave heats food equally and comprehensively at a carefully tuned temperature. This allows you to enjoy healthy, steamed food. So when you get an LG microwave, you will forget about repeated breakdowns.
13. Microwave LG with smart inverter function, 56 liters:
The 56-liter LG microwave has a wide size that helps you put dishes in large sizes, and it has 1.5 times faster heating. Besides, it helps you cook food at varying temperatures suited to the type of food and maturity you prefer.
Enjoy healthy steamed meals with your LG microphone.
14. LG Solo microwave with I-Wave function, 20 liters:
Get hot and healthy food with a 20-liter LG microwave.
The LG microwave helps you heat food to the degree you prefer and dissolves ice from foods equally, accelerating food cooking. It is made from high-quality materials and has an innovative coating that prevents volatile food sticking, making cleaning easy.
Microwave guidelines
Here are the most important guidelines for using a microwave device to optimize and maintain its quality longer:
Read your microwave brand's usage manual to learn about software, energy use, cleaning procedures, and other useful things.
The microwave does not come with several plugs for other devices to avoid malfunction or short circuit.
Don't put anything in the microwave, especially hot materials.
Use appropriate utensils to avoid damage to meat or food.
Don't open the microwave more than once during the cooking and heating process to get the result you want.
Place the microwave's tapered cover over foods as they heat up.
Avoid heating food more than once, and avoid heating food stored for more than three days.
Clean the microwave regularly, avoid using water directly, and ensure that the microwave is free of residual cleaning materials.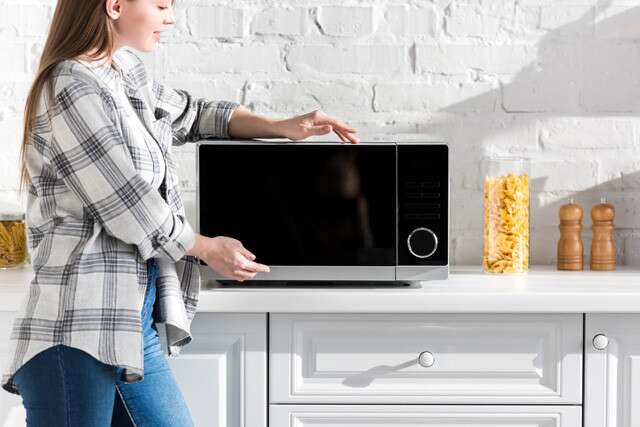 Microwave oven used in the kitchen
The use of a microwave oven in the kitchen varies, depending on the style of the housewife and her family members' preferences. Here are its most important uses:
Heating food, which is the basic function of a microwave, allows you to reheat food without losing its nutritional value.
Cook some foods, such as chard, bread, and roasts, and boil water.
Degrade ice from vegetables and meat in seconds.
Prepare popcorn quickly.
Prepare hot drinks.
Brewing dough.
Dissolve honey, chocolate, or butter.
Read also: The best types of refrigerators and their prices in Saudi Arabia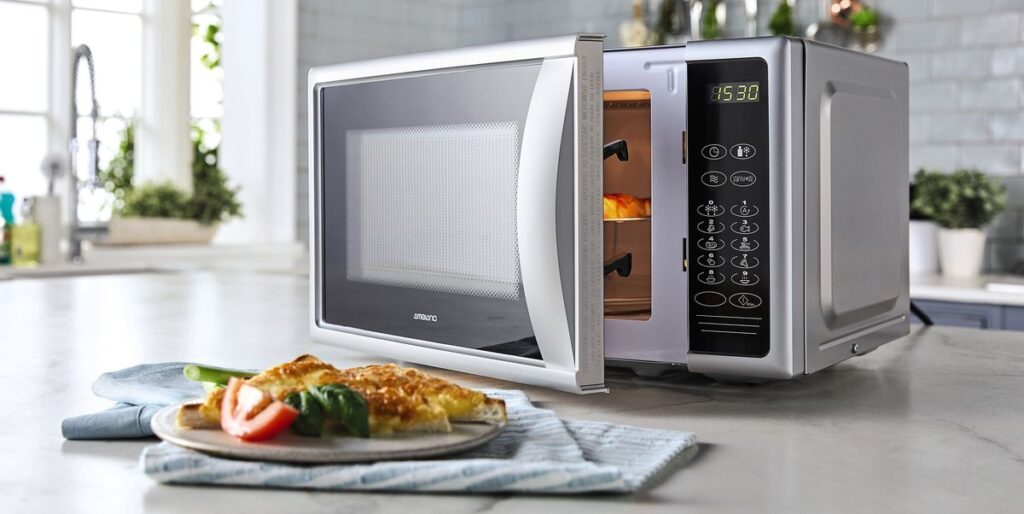 Shaker Group buys the best microwaves in Saudi Arabia
Shaker Group, where you can buy the best microwaves in Saudi Arabia, is a leading manufacturer of home electrical appliances. It guarantees the quality of products from the most famous microwave brands in Saudi Arabia.
Discover also: the best microwave oven to heat food in food.
Discounts and offers on microphone rates
Take advantage of microfiber discounts and offers by ordering them from Shaker Group and saving a lot. Rush and order the microwave that is right for you before quantities run out.
Free electric microwave shipping in all Saudi cities
The Shaker Group provides free electric microwave shipping in all Saudi cities. This is to ensure that the electric piece arrives quickly while being protected from scratch or damage.
Special installments on standard microwaves and microwaves with a grill
The Shaker Group offers installments on the regular microwave and microwave with grill. You can buy the microwave you want by installing it in 4 installments at the cash price without paying extra riyals.
Frequently Asked Questions About the Microwave Oven
Here are the most popular questions about microwave ovens in Saudi Arabia have asked. See it and benefit from it.
1. What is the best microwave brand in Saudi Arabia?
Midea and LG brands are the best microwave brands in Saudi Arabia, followed by the Ariston brand. Each has the same manufacturing quality and elegance.
2. What dishes enter the microwave?
Dishes that enter the microwave do
not damage food or the microwave, including:
1. Heat-resistant glass dishes are safe for microwave use.
2. Straw and wood baskets (no metal).
3. Some high-quality plastic dishes to write (microwave-safe or microwave-unsafe).
3. How do I operate a microwave oven?
The microwave oven is operated simply by connecting it to electricity, choosing the right program by food type, and then tightening the door closure to start the inner dish turning.
4. How do I use a microwave?
The microwave method is summarized in the following steps:
1. Make sure your saucer fits in the microwave.
2. Close the microwave door tightly.
3. Based on the type of food, choose the right program and time.
4. Don't approach him while he works to avoid exposure to his rays.
5. Do not place tubes or metal objects inside the microwave.
5. Can I cook in a microwave oven?
Cooking in a microwave oven is possible for some foods, but not all. Its function does not stop when heated; it can cook and bake across it, knowing it does not reduce nutritional value.
6. How do I operate the microwave grill?
You can run the grill in the microwave by setting up the grill via the front panel. Then, select the right time and pressing the play button. Make sure to distribute what you want to grill evenly in a dish, and then place it on the grill rack without covering it.
7. Is the microwave healthy?
Yes, the microwave is healthy; it does not reduce nutritional values in foods but rather preserves vitamins and minerals as it heats and cooks food faster and without adding water.
In conclusion, we recommend that you use one of the types of previous microwaves to ensure quality and efficiency for many years. They are one of the best-selling microwaves in Saudi Arabia, which prove worthwhile according to user ratings from Saudi Arabian housewives.
Sources: