To get through the summer heat and winter cold, you only need the LG split air conditioners, which are considered the best in Saudi Arabia for 2023. But which one is the best for you?
In this article, you will find out the answer. We collected for you, based on our experience in this field, the best ones and gave you comprehensive information for all the questions you had in mind, especially "which split AC is the best?"
Information and Components of a Split Air Conditioner
Here, we have gathered for you all you need to know about a split air conditioner. Here are the details:
What is a split air conditioner?
The split air conditioner (split AC) is a separate air conditioner that consists of two separate units connected to each other by electrical pipes and cables to allow cooling and heating to follow each unit.
The larger unit of a split A/C is placed outdoors, while the other unit, which is quiet and gives you the feeling of coolness and warmth, is placed anywhere inside the place.
Discover also: The best selection of split ACs in Saudi Arabia.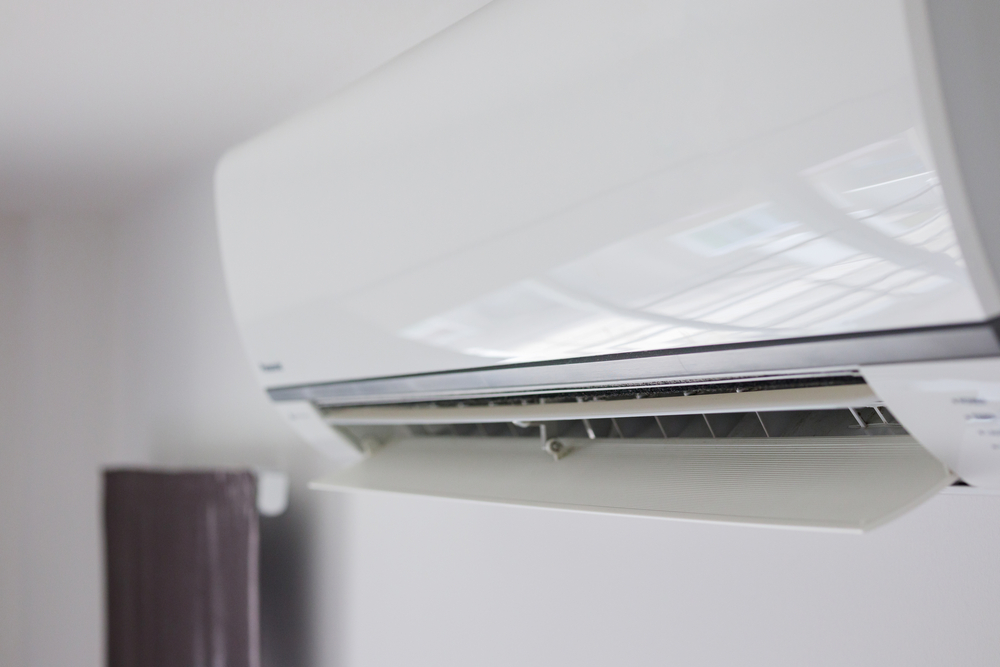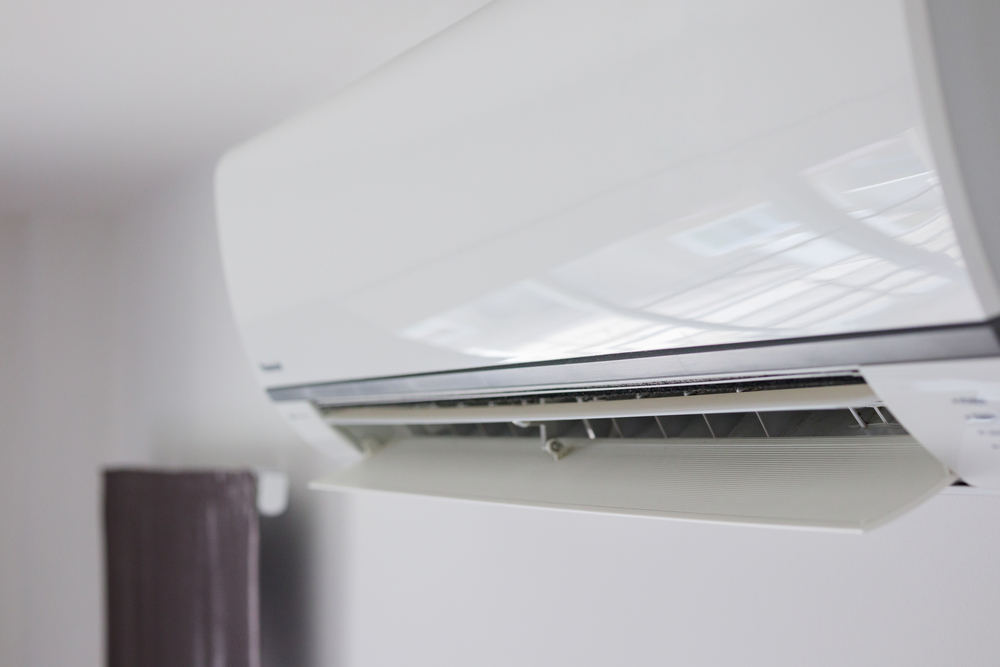 Split Air Conditioner price in Saudi Arabia
The price range of a split AC in Saudi Arabia varies from SAR 3500 to SAR 10.000, depending on its units and if it is only cold and hot or cold. You can shop for cheap split conditioners at a price that fits your budget and in excellent quality for only an average price of SAR 4,500.
Best split AC type in Saudi Arabia
LG's split conditioner is one of the best and most powerful split conditioners in Saudi Arabia for 2023. It gives you the cool and comfort you need in the summer and the warmth and relaxation you need in the winter.
It's also economic. By choosing the LG Split Conditioner, you will save a lot on electricity bills and repair costs since it has fewer repeated breakdowns compared to the other unknown models. Furthermore, it comes in elegant styles and designs that suit your home decor and match with different spaces.
With LG air conditioners that are cheap and easy to clean, your life will be better and free from problems such as heat, sweat, and others.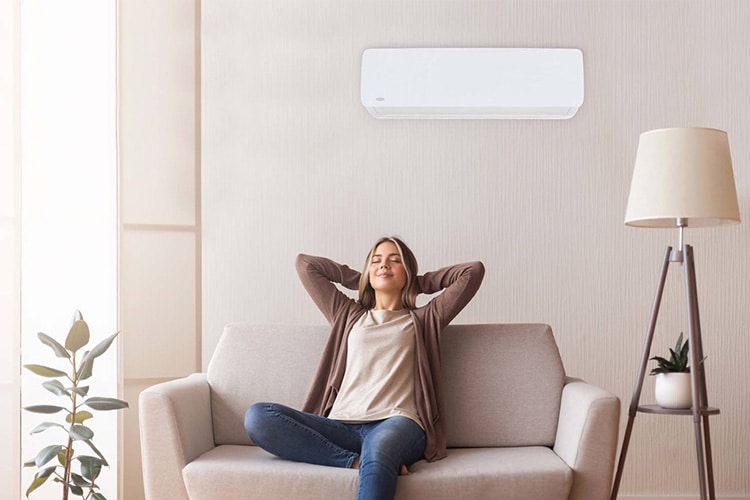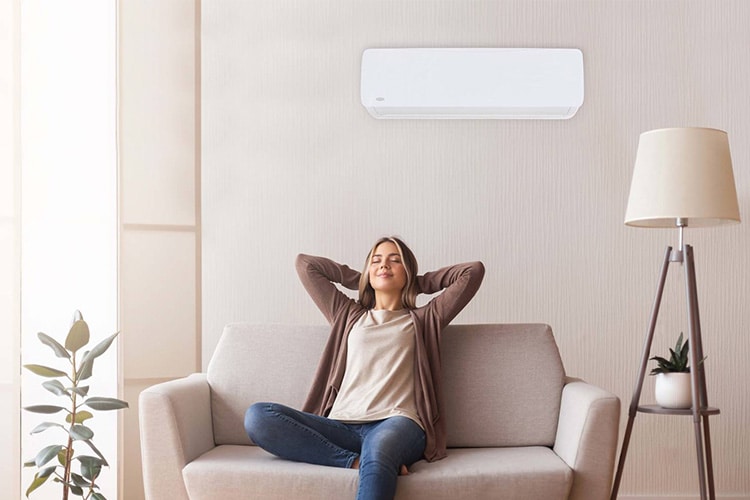 Features of the LG split air conditioner from Shaker Group
These features are limited only to Shaker Group, among other Saudi companies.
Here are the most important ones:
Cheap and excellent: You will get a high-quality LG conditioner at a cheap price, saving money and time compared to having other models.

Best Cool-Hot Split Air Conditioner: An LG split air conditioner is the best option if you want a cool or hot split air conditioner or both.

No sound: An LG split ac works with no sound due to the lower vibration of the external unit and the lack of air friction on the blade.

Wi-Fi Remote Control: You can control the LG Split Conditioner remotely with Wi-Fi, wherever you are, with a click of a button.

Eco-friendly: The LG Split Conditioner is energy efficient, removes irritating moisture from the air via a thin pump, and leaves a nice cold atmosphere.

Crash-resistant Golden Blades: No worries with LG conditioner blades that allow you to enjoy the soothing atmosphere without any malfunction or disturbance.

10-year warranty on compressor: Enjoy Shaker Group's warranty offer on LG Split conditioners up to 10 years.

Continuous and real offers on split conditioners: Take advantage of LG conditioner offers from Shaker Group and save your budget.
Read also: The best types of automatic washing machines with a top opening in Saudi Arabia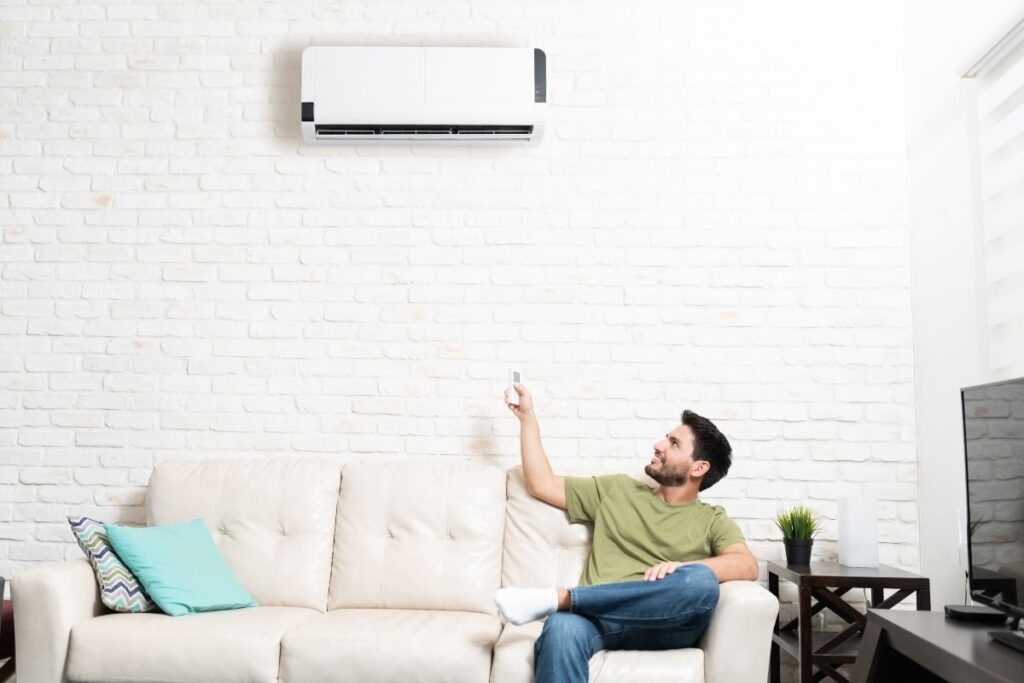 The best and cheapest types of LG split AC in Saudi Arabia
Due to the hot climate in Saudi Arabia, you absolutely need to get an air conditioner that gives you a feeling of comfort and avoids moisture and other problems at the lowest possible cost.
So, we gathered for you a list of the best types of split AC in Saudi Arabia.
1. LG Smart Split AC, 17,500 BTU:
After you know the features of the LG Smart Split AC with 17,500 BTU, you will not miss it. It gives you the atmosphere you want, whether it's cool, fresh, or warm, with great savings because it is cheap and energy-efficient, as well as lasting for many years without any disruption with a 10-year warranty that makes you feel reassured about this conditioner.
To save money and buy it at a much lower value, you can choose an LG split conditioner, cool only, with the same quality, features, and quality.
2. LG Gold Split AC, 18000 BTU:
Get a refreshing atmosphere with the LG Gold Split AC-18000 BTU. It is a perfect conditioner with strong specifications that make it a suitable choice for houses and work spaces in summer and winter, being easy to install with a stylish design that is easily consistent with place decor, saving 53% of electric power, supported with WiFi control, and having a fast and quiet cooling system.
Shop the best types of split air conditioners in Saudi Arabia and say hello to the moderate weather.
3. Smart Split AC, 18000 BTU:
With Smart Split AC-18000 BTU, there are no worries about your electric bills; turn it on 24 hours a day and enjoy.
It uses 53% less power with great cooling and heating efficiency, making it an ideal choice for those looking for economical split air conditioners; it is also suitable for offices, houses, and even bedrooms because it is soundless and energy-saving.
You can also find LG Smart Split AC/COLD at the same quality and cheaper price, saving over SAR 1,000 with a 10-year warranty on both types.
Also Shop: Best 18000 BTU Split AC in KSA
4. Dual Inverter Split AC, 18 BTU:
Enjoy the features of the Dual Inverter Split 18 BTU for life.
You can enjoy a hot-cold split AC for a long time thanks to its dual inverter, which works highly efficiently and economically in terms of electrical power and installation as it is easy to install and clean, and it supports a four-way swing to distribute air throughout the place quickly and quietly, making it suitable for houses and offices as well.
Is there an LG Dual Inverter AC for cold air only?
Certainly yes. It allows you to save more money with the possibility of paying the value of the bill in four payments at the cash rate for both.
5. Energy-saving Split AC, 20.000 BTU:
It is the most energy-efficient split AC and is a smart choice to get the best conditioner in Saudi Arabia!
It combines the global specifications required in any conditioner with an elegant design and great savings; its units save more than 53% of the electrical power, enabling you to run it 24 hours a day and enjoy a cool summer and a safe winter at the lowest possible cost.
But if you want to get an additional reduction in the same category, buy a 2000-watt savings-energy split AC only at a lower price in installments over 4 months at the cash price for greater convenience in payment.
6. LG Split AC, 21000 BTU:
Get one of the best solutions for the central air conditioning system with the LG Split 21000 BTU!
It is the right decision because of its features: it cools and warms the atmosphere quietly and quickly in 4 directions, has a long guarantee of up to 10 years, and is the best split air conditioner compressor in Saudi Arabia.
7. Cold-Hot Split AC: 21500 BTU:
Get rid of summer heat and winter cold by ordering a refreshing Cold-Hot split air conditioner with 21,500 BTU.
The dual inverter in LG split ACs in this category reduces the cost of electricity by saving up to 53% of energy and allows you to sleep like a baby for hours in a quiet sleeping environment.
If you want additional savings, you can buy a split AF cooler with the same efficiency and quality.
8. Gold split AC, 21500 BTU Cold only:
Goodbye to the heat, moisture, and others with Gold Split 21,500 BTU Cold only.
Whatever your concerns about buying a split air conditioner are, this product solves them for you. It has many of the features that Saudi citizens want, such as cooling a space quickly and quietly thanks to the dual inverter compressor, which extends the life of the conditioner and saves 53% of electric power, and you can easily control it via WiFi from anywhere.Relax under the conditioner and enjoy.
9. Split Air Conditioner, 21500 BTU, Smart, Cooling Only:
Beat the high temperatures and get the 21500 BTU Smart Split Cooling AC just cool!
Enjoy no more bothering from high temperatures with Split AC, 21500 BTU, Smart, Cooling only. It has a dual inverter that reduces electricity consumption, so you can run it 24 hours a day with no fear of electric bills; it also cools 60% faster compared to others. Order now at the best price with up to a 10-year warranty and enjoy the ultimate comfort of temperature control via remote.
10. Split Air Conditioner, 24000 BTU, Dual Inverter:
LG hot and cold air conditioners provide you with the temperature you wish for in your room. The four-way swing function broadcasts air quickly and efficiently in many directions, and the double inverter works even at 65 °C, making you able to use the conditioner for a long time with high quality that lasts over time.
Buy one of the best energy-efficient air conditioners in Saudi Arabia and enjoy a moderate climate all the time.
11- Split Air Conditioner 30.000 BTU (2.5 tons):
Live a refreshing life and get rid of the heat with the most powerful split air conditioner 30,000 units (2.5 tons)!
It is the best LG split air conditioner in Saudi Arabia, as it comes with a capacity of two and a half tons and the features of fast cooling and remote temperature control, in addition to the continuous warranty period of up to 10 years on the compressor in this air conditioner. LG Split Air Conditioners in Saudi Arabia A modern and comfortable touch to your home will provide you with the right atmosphere for a happy life free of discomfort and problems.
See also: Split air conditioner set tons and a half with the best specifications.
12. LG Split Air Conditioner Jet Cool With Gold Blades White
Order the LG Split AC Jet Cooler with Gold Fins and enjoy its perfect cooling.
It is an LG fast-cooling air conditioner even in large spaces, so it fits whatever room space is; it also comes with an automatic swing feature for an equal distribution of air throughout the room. You can track its smart display. One of its most important features is that it is automatic and internally cleaned, meaning that it eliminates any moisture that causes inconvenience for you.
13. LG Split Air Conditioner Jet Cool and Hot With Gold Blade – White:
Get the strongest LG Split Air Conditioner, Jet Cool and Hot White, and enjoy a cool summer and a warm winter.
This conditioner comes with advanced technologies that ensure that the air in the room is distributed in an equal manner. You can also use the features of the operating timer and stillness mode to get a good night's sleep. Additionally, it saves 53% of electricity, whatever hours you run it, so you will not pay much in electric bills, as it is considered the best economic split conditioner.
14. LG Split Air Conditioner, Jet Cool with Cool Gold Blade, White:
It is one of the best split air conditioners available only in Saudi Arabia.
Get a nice, cool atmosphere with only one button press to send cold air very quickly so that it can adjust the temperatures of the place in only a few minutes. It is also economical because of its high quality and elegant design, which fits with the decorations of your home bringing an aesthetic touch. In addition, it has the feature of automatic restart if the power is cut off.
LG Split Air Conditioner Components:
Here are the components of the LG Split Conditioner:
Split air conditioner compressor.
Split air conditioner base.
Split air conditioner fan.
Split blades.
WiFi remote control.
Split air conditioner filter.
The LG split air conditioners in Saudi Arabia rank first in terms of combining technological components with aesthetics and real value relating to quickly adjusting the climate of the place at the lowest cost.
Read also: The best vertical air conditioners in Saudi Arabia through Shaker Group
Best Split ACs offers and discounts in Saudi Arabia
Benefit from the best split air conditioner offers in Saudi Arabia that are presented by Shaker Group in all Saudi cities.
Split AC Prices in Saudi Arabia
The prices of split air conditioners in Saudi Arabia range from SAR 4,000 to SAR 10,000. It is a great investment that will make your life easier and more comfortable.
Buy Split Conditioner in installments at cash price
Get split conditioners in installments in Riyadh or elsewhere in Saudi Arabia; you can install an LG split AC in 4 installments at the cash price with a guarantee up to 10 years.
Best discounted and cheap split conditioners in Saudi Arabia
Cheap and discounted prices, along with high quality and energy savings, are all provided by Shaker Group on its collection of 30000 BTU split AC units and other types as well.
Also Shop: A collection of the best discounted split air conditioners in Saudi Arabia.
Installation price of a Split Air Conditioner
The price of installing a split air conditioner is estimated at SAR 230.00, increase or decrease, including the installation process to be done by experts in the field of conditioning.
Best Split A/C Company in Saudi Arabia
Shaker Group is the best split AC company in Saudi Arabia to deal with and try its products; it offers discounts and continuous offers along with long-term guarantees of up to 10 years. So, you can be assured that you buy split air conditioners in Riyadh and the rest of Saudi Arabia's cities with the best quality.
Buy now an LG Split AC and enjoy the pleasant spring weather all day long.
Frequently Asked Questions about Split ACs in Saudi Arabia
We have gathered the following FAQs on split air conditioners in Saudi Arabia to help you find a lot of important information before buying a new split air conditioner.
1. How do I choose a split air conditioner?
You can choose the right split air conditioner to cover the space by knowing how powerful the split ac is. You can calculate it as follows: room size × 250 for normal places or × 250 for normal places, or × 300 for very hot places.
2. How do I know how many tons a room needs?
To know the total number of BTUs you need to cool your space appropriately, multiply the number of square meters to be cooled 25 times. Then, divide this figure by 12,000 to determine the load capacity you need in the new air conditioning unit.
3. How do I choose where to install the conditioner?
You can reduce the sound of the split air conditioner by cleaning the external filters of the conditioner. In case the problem keeps happening, it should be checked by a specialist to diagnose the real cause of it.
4. What is the best conditioner temperature to save on in the winter?
When the air conditioner is used for room heating, make sure that the temperature is between 18 and 20 degrees Celsius at most. It should be noted that each additional degree increases the cost of operating the conditioner by 5%.
5. What is the best split-conditioner temperature in summer?
The temperature range of 21 to 28 °C is an ideal option to get enough room cooling without wasting more electricity.
6. Does the conditioner need to rest?
The air conditioner needs to rest because it should not last for 24 hours, avoiding the combustion of the air conditioning motor and possibly a lot of problems for which you will need maintenance.
7. Where is the right place for a conditioner in the kitchen?
The best place to install a conditioner in the kitchen is away from heat sources such as kitchen appliances or any external part exposed to sunlight. You also should choose a clean place with little exposure to dirt so that it does not enter the air conditioner unit and a high place close to the ceiling so that the place is perfectly cooled.