Learn about the best types of electric and hand mixers in Saudi Arabia for 2023 so you can compare those types in terms of features and prices and thus choose the best electric hand mixer for your home.
The electric blender helps the lady in the house accomplish a lot of things as she prepares food and thus saves her effort and time. This is one of the very important electrical pieces in any kitchen as it is so indispensable that it requires housewives to use it daily.
If you are interested in buying the best hand-read electric mixer from us, let's give you the feed in just 5 minutes.
Types and uses of electrical mixers
Electric mixers have many types and uses in Saudi Arabia.
Types of electric mixers
Electric mixer types are divided into two main types:
Electric mixer for fruit and grinding.
A mixer and a whisk blender are versatile.
Food preparation for multi-use beating and grinding.
Knowing that we will refer to the best types of electric mixers with photos and details in our article, read on to get one of these types for your kitchen.
Discover also: a selection of the best hand and electric mixers in Saudi Arabia.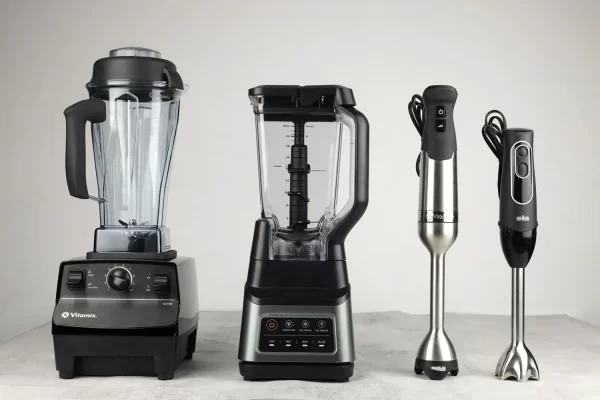 Uses of a manual electric mixer
The uses of a hand blender are many and varied, as it serves you in the preparation of many recipes for food and desserts. Here are the most important:
Mix the food into the cooking bowl as it cooks, such as soup and pasta.
Making cream for desserts, or cream garlic and mayonnaise.
Prepare various sauces, such as pizza sauce.
Mash potatoes and others in small quantities.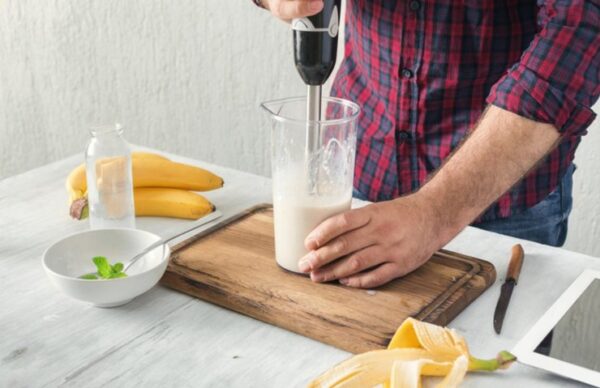 Use a normal electric mixer
The regular electric mixer is also versatile and is a very important piece in the kitchen as it separates the housewife from many other electrical pieces. Here are its most prominent uses:
Prepare cocktails of all kinds, where the blender blends various types of fruit with milk or juices.
Squeezed tomatoes should be used fresh while preparing food.
Blend samosi in all its flavors with ice.
Mix children's food quickly.
Mix up some dessert recipes.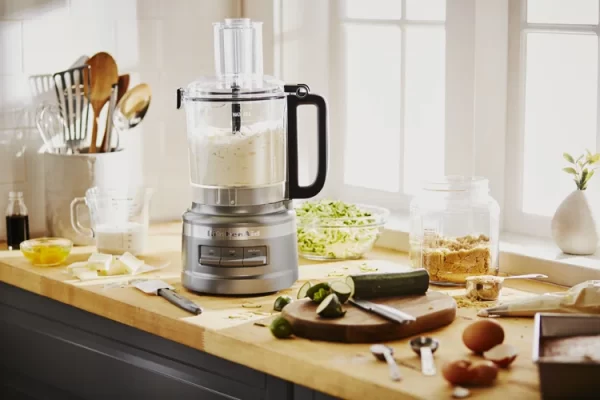 Best Electric Mixers From Shaker Set
When housewives ask about the most important electrical pieces in the kitchen, electric mixers will answer. In a few minutes, they can prepare a variety of foods and delicious cocktails.
Electric mixers are important due to their shortening time and effort. They also contribute to the success of many foods, such as soups, juices, desserts, and many more.
And now here are the best types of electric mixers with pictures and prices. These are the most sought-after electric mixers in Saudi Arabia for their high efficiency and advanced features.
1. Midea mixer, 2 speeds, 1.5 liters with mill, white:
Get the best electric mixer with a mill in Saudi Arabia and enjoy preparing the tastiest foods as soon as possible!
This electric mixer device is excellent in terms of mixing and blending. You can use in preparing cocktails for your family, desserts, or whatever else needs to be mixed. It is also attached to a small electric mixer to grind condiment or coffee beans and enjoy them fresh with a fragrant smell at home. It is a two-speed electric mixer rich in white definition and easy to clean and store anywhere in your kitchen.
2. Manual Midea blender with mincer, black:
Order the best integrated hand-held electric mixer and get the texture you want for your food and drinks in a few seconds!
This soup blender is versatile. It comes with an egg bat, so you can make sweets without buying a custom blender. Thus, a handmade Midea blender with a chopper will provide you with more than one electrical device that helps you chop vegetables besides blending soup and grinding meat. This is most importantly a baby food puree blender.
3. Midea mixer for table, 1.5 liters, white:
It is a multi-use electric mixer essential for any home!
Let your life be easier and use an electric Midea blender to prepare foods and drinks. Vegetables, fruit, and meat can be blended with this blender even during continuous mixing. With the accompanying food preparation, you can also grind grains and nuts. One of its most important features is that it is easy to clean and has a handle that is easy to carry during use.
Order the best type of electric mixer during the cut-off period via the shaker set and save a lot.
4. Midea electric mixer, two speeds, 1.5 liters, black:
This Midea Blender is a two-speed electric blender in a luxurious black color with powerful performance to blend many vegetables, fruits, and foods.
The electric Midea blender comes with a food blender for wider use, where you can grind various spices. The structure of both the blender and its stainless steel and unbreakable plastic is easy to clean and store. Bring it and shorten time and effort preparing foods at home. Order the best multi-use electric mixer in Saudi Arabia via Shaker Group.
Read also: The best types of electric water boilers and their uses in Saudi Arabia
5. Midea mixer, 2 speeds, 1.5 liters with mill, white:
Enjoy delicious cocktails and drinks with the multifunctional electric Midea blender!
The Midea blender maintains the nutritional value of vegetables and fruit, so you get the nutrients your body needs daily. It is also the best blender for preparing children's meals. Most importantly, the juicer's electric flake with sharp, non-corrosive blades will last you for many years without maintenance.
6. Best smoothie mixer at 2 speeds with milled black:
If you are looking for the best juice mixer in Saudi Arabia, we offer the most powerful juice mixer in Saudi Arabia with distinctive technology!
You can use it for healthy meals, foods, and juices. Whether you want a healthy, high-protein cocktail after returning from the gym, it allows you to do so in a few seconds, besides being easy to clean and store. Midea brand mills have sharp, non-corrosive stainless steel blades.
Order the best orange and carrot juice blender and ensure quality and performance.
7. Best types of Midea electric mixers, 1.5 liters with mill, silver:
One of the best electric blenders is the Midea blender, with its mill and elegant silver-colored shape!
An electric food blender can prepare several ingredients for a delicious meal. Besides preparing cocktails and blending soup to give it a delicious texture, this blender is also used for orange and carrot juice. With a durable structure and front buttons to operate, stop, and control blending speed, these electric hand mixer blades are sharp and non-corrosive.
Get the Midea Juice Blender and Food Cooker now with discounts for a limited time only.
8. Midea hand mixer, electric, two-speed, 400 W, white:
Get the best hand mixer with a multi-use whisk!
It is a small electric hand mixer that will eliminate several electrical devices since it is easy to use every day. You can use an electric egg and cake mixer and beater to prepare cakes, blend soup, mix children's food, and many other foods.
It is the best electric mixer brand in Saudi Arabia because of its high-quality manual racket structure.
9. Midea food preparation and 600W power, 1.7L, white:
Midea food preparation is the best food preparation in Saudi Arabia on a daily basis.
It will be useful for grinding meat, nuts, and various types of vegetables and fruit. It is food prepared with good capacity, a comfortable handle, an easy-to-clean mold, and sharp blades made from stainless steel.
Buy a Midea brand electric food cooker and take advantage of the Shaker Collection sale period before it ends.
Shaker Group to buy the best blenders in Saudi Arabia
Shaker Group is the ideal destination for purchasing the best types of blenders in Saudi Arabia because it ensures efficiency in all electrical appliances and is the exclusive agent of several household electrical appliance brands.
Midea's best-brand electric mixer
Midea is the best electric mixer brand you can choose. It guarantees you an electric or manual mixer that lasts for years without maintenance.
Price of manual and electrical mixers in Saudi Arabia
Manual and ordinary electric mixers in Saudi Arabia vary by features, size, and type, but in total range from 100 SAR to 200 SAR.
Also benefit: Best electric and hand mixers deals in Saudi Arabia.
Advantages of an electric mixer by Shaker Group
The advantages of an electric mixer from the shaker range are many; here are the most important:
Powerful electric mixers with excellent performance from the Midea brand.
Custom-place the blender to store the electric socket inside.
The floor has been fixed to prevent blender sliding and give it stability.
A small mill with it for nuts and spices.
Sharp blades in an electric mixer for fruit and grinding across the shaker set.
Free charging for all electric mixers.
Discounts for manual and ordinary blenders.
Plastic, unbreakable electric mixer.
The ability to control the speed of an electric mixer via the front panel.
Mixer and whisk hand blenders are multi-use with high efficiency.
Buy an electric mixer in installments
You can buy the best electric mixer in installments in 4 batches at the cash price without interest or additions by ordering it from Saudi Shaker Group with free shipping.
Browse also: Best small and large juice mixers in Saudi Arabia.
Browse also: Best small and large juice mixer in Saudi Arabia.
Free shipping for electric mixers in all Saudi Arabia cities
Shaker Group provides free charging for electrical mixers in all cities in Saudi Arabia, whether in Riyadh, Jeddah, or others. You can order any type of electric mixer to arrive in a few days.
FAQs about electric mixers and their uses
Here we answer FAQs about electric blenders and its uses. Get to know them and let them benefit you as well.
1. How does an electric mixer work?
Electric blenders work simply once electrified. All you have to do is put the components in the bowl, then close the blender tightly, connect it to electricity, and then, with the blender switch, choose the speed you want. The electric motor rotates inside the blender and work.
2. What is the best way to clean an electric blender?
Electric mixer cleaning is very easy. Here are the steps:
1. Make sure you separate the electricity from the blender.
2. Wash the pieces separated from the blender with clean materials and water, and dry them.
3. Wash the bowl with water and put it in the dishwasher.
4. If the blender body needs to be cleaned, use a brush or a soft mop.
5. Make sure to dry it thoroughly before re-connecting it to electricity.
3. How do I care for an electric mixer?
Take care of the electric mixer through each of the following:
1. Make sure it is not exposed to water while electrifying.
2. Do not use harsh ingredients; chop them before putting them in the bowl.
3. When using liquids, make sure the liquid does not come out of the bowl during blending.
4. What's the difference between a manual blender and a regular blender?
The manual blender has its small size and easy navigation, as you can mix whatever you want with any bowl you want, unlike the manual blender, where you have to rely on its own bowl.
5. Does the Hand Blender sing about the blender?
No, each has its own important uses in Saudi cuisine. The hand blender blends anything in its own right, such as soup, while preparing a cocktail requires an exclusive electric mixer.
Finally, we should like to inform you that all the information and nominations mentioned in the article are based on the percentage of sales of Midea Brand Electric Mixers in Saudi Arabia through the Shaker Group as its official agent and due to the quality and efficiency touched by citizens in Saudi Arabia for all kinds of electrical and manual mixers. So we advise you to compare these types and choose the one that is most suitable for you before the current discount period ends.
Source: