If you are searching for the best types of household water coolers in Saudi Arabia, this article will guide you in selecting the ideal water cooler for your home, office, or even your company. Water coolers are indispensable electrical appliances that provide cold or hot water throughout the day, offering refreshing convenience and simplifying your life. When you need to prepare a quick beverage, you can easily obtain hot water from the water cooler and have your drink ready in just a few seconds. Similarly, you can enjoy cold, invigorating water anytime you desire.
Continue reading to help you choose the best water cooler for 2023 in Saudi Arabia!
How do I choose the best water cooler or small water dispenser?
When choosing the best water cooler or small water cooler for your home, there are several key points to consider. Here are the main ones:
Capacity: Depending on the number of family members, choose a water cooler or chiller with the appropriate storage and purification capacity to provide a continuous supply of water.
Water temperature: Ensure the unit offers your preferred temperature options, such as hot or cold, and check if temperatures can be adjusted according to different weather conditions.
Cleaning mechanism: Make sure the unit is easy to clean by allowing the water compartment to be disassembled and washed with clean water. Additionally, ensure the filter can be replaced periodically.
Noise level: Although most modern water dispensers on the market operate quietly, it's advisable to confirm this before purchasing.
Safety lock: Choose a water cooler with a safety lock to protect children from tampering with the unit and potentially harming themselves with hot water.
After highlighting the essential factors to consider when buying a water dispenser, we can recommend a few models that meet these criteria.
See also: Wide selection of the best water cooler in Saudi Arabia.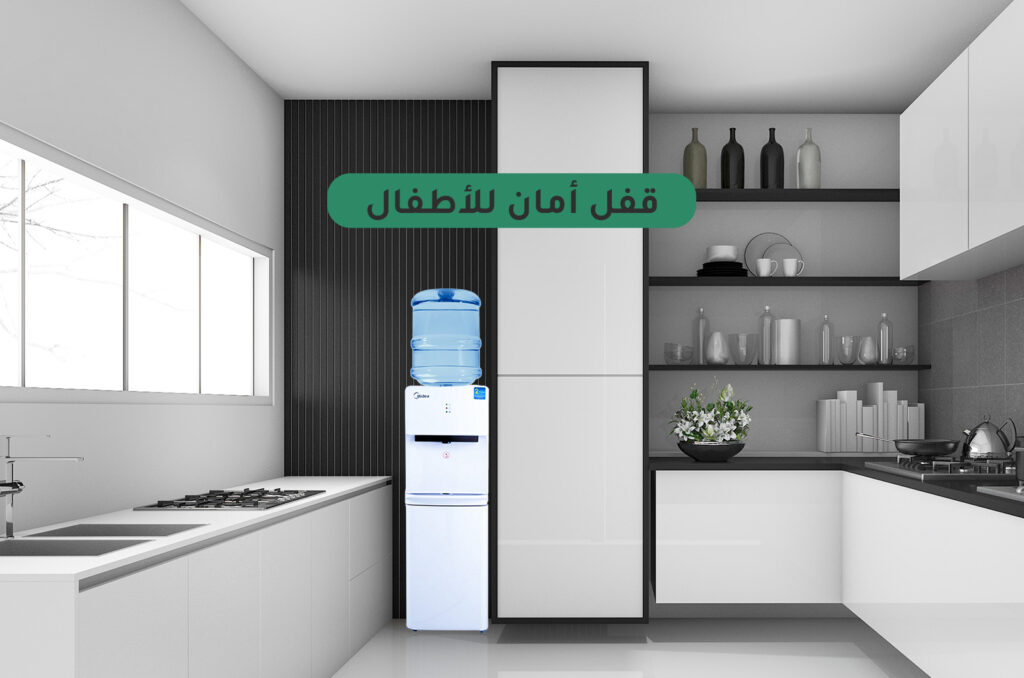 The best types and prices of household water coolers in Saudi Arabia
The best types of household water coolers in Saudi Arabia offer both cold and hot water, ensuring cleanliness and perfect purification. These top-rated water coolers come in various price ranges to suit every budget.
1. Midea water dispenser with chiller; one tap; hot, cold, and normal functions; white color:
Discover the best home water cooler in Saudi Arabia and enjoy access to cold or hot water 24 hours a day! This high-quality water cooler is designed to make your life easier by eliminating the need to wait for water to cool in a regular refrigerator or to heat up for your morning drink. Its smooth surface makes it easy to clean and maintain.
Place the cooler water cooler anywhere in your home without worrying about space, as it features a stylish design and a compact size. Additionally, its safety lock protects your children from potential accidents. Experience convenience and style with this top-of-the-line water cooler.
2. Midea water chiller with 2-taps (cold and hot) White Color:
The Midea Water Chiller is the top hot and cold water brand in Saudi Arabia! This high-quality water cooler features a durable, non-scratch structure, ensuring long-lasting use with rapid heating and cooling capabilities.
Safety is a priority with the Midea Water Chiller, as it includes a safety lock to prevent accidental hot water spills, providing double protection. As a reputable brand, the Midea Water Chiller is known for its efficiency and quality, with minimal breakdowns.
Don't hesitate to order a stainless steel, 2-tap water chiller from Midea and enjoy hot and cold water all day long!
Prices of water coolers for mosques and homes in Saudi Arabia
Household water coolers suitable for mosques in Saudi Arabia are available at prices ranging from SAR 400 to SAR 500. These coolers can be purchased exclusively through the Shaker Group in Saudi Arabia, which offers discounts of up to 40%.
Water cooler offers are available in Riyadh through Shaker Group
Take advantage of the water cooler offers in Riyadh through the Shaker Group and save significantly when purchasing a water cooler or any other household electrical appliances.
Read also: Best split air conditioners in Saudi Arabia
Frequently Asked Questions on Types of Household Water Chillers
At Shaker Group, we've compiled answers to frequently asked questions about various types of household water coolers to assist our valued customers. Please review the information below and feel free to contact us if you have any additional inquiries.
1. What is the best type of water chiller?
The best type of water chiller is the Midea Water Chiller, available at Shaker Group in the Department of Water Coolers. It comes in various categories, offering specifications, discounts, and free shipping throughout Saudi Arabia.
2. Are water coolers healthy?
Water coolers are both healthy and beneficial for any household, as they not only streamline daily life but also save time. Moreover, most water cooler models come equipped with water purification and filtration features.
3. Does the water chiller consume electricity?
The water chiller typically does not consume a significant amount of electricity. However, the Midea water chiller is known for its energy-saving capabilities, which contribute to its popularity and people's preference for it.
4. Does a water chiller produce sound?
Modern Midea water coolers operate silently, allowing you to place them anywhere without causing inconvenience to you, your family members, or guests.
In conclusion, we have discussed the various types of top-quality home water coolers in Saudi Arabia, specifically from the renowned Midea brand. These water coolers can be purchased with free shipping through the Shaker Group, a leading provider of home appliances. The Shaker Group offers a convenient payment plan, allowing customers to buy any device in four installments at the cash price. Don't hesitate to order a water cooler and benefit from the available discounts.