In our article, you will learn about the best types of TV screens and their prices in Saudi Arabia for 2023.
Shaker Group is a Panasonic and LG agent in Saudi Arabia and offers you all types of TV screens. It is also the best screen-selling company that you can order a TV screen from, ensuring that you buy the original at the best price.
So, keep reading to learn about the advantages of Panasonic TVs and the best TV screens from Shaker Group in terms of types and places to buy them in Saudi Arabia.
Features of TV screens – Shaker Group
Different sizes.
Android screens, among others, are available at different prices.
Bluetooth remote control.
Android TV,
UHD TVs.
OLED TVs,
FHD TVs
Plasma smart TV with a two-motion stand.
Rainbow pure color
High sound quality.
Buying in installments over 4 payments at Shaker Group.
Also Shop: The Best Smart TV Collection in Saudi Arabia.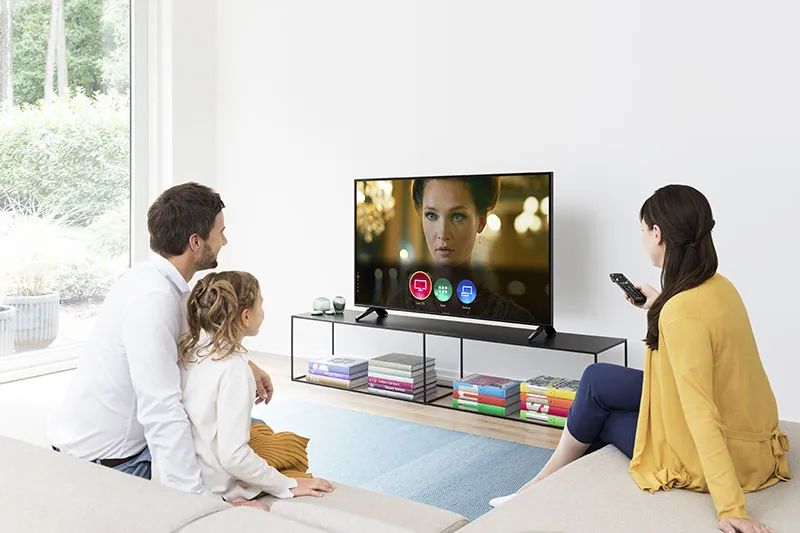 TV screen prices in Saudi Arabia
The prices of TVs range from SAR 1,250 up to SAR 10,000, depending on the specifications and features of the screens.
Best smart screen types in Saudi Arabia
Here are the best types of smart screens in Saudi Arabia, so you can shop any TV screen and see their specifications in one place.
1. Panasonic 40-inch Full HD TV, Black:
Panasonic 40-inch Full HD TV (Black) is an affordable screen with excellent quality and the best screen visibility. It is suitable for the sitting room, bedroom, or even kitchen, Panasonic is one of the best smart screen types in Saudi Arabia.
It has a modern and elegant screen that adds a luxurious touch to your home, as well as clear sound and vibrant colors that give you a great experience while watching TV with your family.
2. Panasonic 4K HDR Smart Android TV, 55-Inches, Black:
This television combines modern technology with an affordable price. So, if you're looking for the best luxury smart TV screen with many modern features, this screen is for you. It allows you to control it with your voice while streaming photos, videos, or music through your other devices,
Enjoy your time with Panasonic's Android Smart TV, which gives you an amazing experience with its purity of colors.
3. Panasonic 4K HDR Android Smart 55-Inch TV, Black:
It is the smartest ever type among all types of TV screens in Saudi Arabia!
Enjoy watching your favorite movies via 4K, which gives you a high-quality image. The latest TV specifications include a Bluetooth remote control for added luxury.
Download apps and programs, as well as music and games, from the Google Play Store and enjoy accompanying your family with pure-sound audio and clear vision angles from all directions.
4. Panasonic 4K OLED Smart TV, 55 Inches, Black:
Get now a Panasonic 4K OLED Smart TV 55-inch (Black), which ranks as the best TV brand, and enjoy your time.
Panasonic's screen is characterized by a distinctive design with no edges and a thin metal frame. It also comes with hidden loudspeakers and a two-way motion stand that allows you to rotate the screen in both directions.
It is the best smart screen, so don't miss it, especially if you know that you can buy it by installment in 4 months at a cash price.
5. Panasonic 4K HDR Smart 65-Inch Android TV, Black:
Order now the best types of screens in terms of quality and features of the smart TV.
This TV is one of the best types of TV screens in Saudi Arabia. It comes with very comfortable eye features and the purity of colors and sounds; additionally, it fits all room spaces, whatever the quality of its light is.
This screen will give you the best watching experience you may ever have.
Take advantage of: the best offers of Smart 4K 65 TVs in Saudi Arabia.
6. Panasonic 4K HDR Smart 65-Inch Android TV, Black:
Shop now a Panasonic 4K HDR Smart 65-inch Android TV in Black and have the quality you're looking for!
This TV is the best TV screen in Saudi Arabia because it will last a long time without needing to be replaced, and it comes with the best features of screens: it reprocesses colors to give you a purer image and has a more powerful and clear sound than any other screen.
7. Panasonic OLED 4K Smart TV, 65-Inch, Black:
Live Hollywood Studios Experience with the best Android 7. OLED 4K Smart Panasonic TV (65 Inch) – Black
It is one of the best 4K TV screens because it combines the elegant design and modern TV features desired by most Saudi citizens, like colors and sound. It comes with highly pure color and sound, and it is made of high-quality materials, making it the best anti-shock TV screen.
8. LG UHD 4K Smart TV 43 Inch:
The UHD LG screen experience will make you feel like you've integrated with the world you're watching due to the accuracy of its colors and the beauty of its dimensions. It also allows you to control all lighting settings, and it comes with the perfect screen size that experts recommend.
Enjoy a perfect watching experience with LG's smart screen.
Read also: Best split air conditioners in Saudi Arabia
9. LG OlED 4K Smart Screen, 48 Inch:
Order an LG 48-inch screen, which is one of the best TV screen collections at Shaker Group.
LG Screen is your gateway to new worlds with a self-illuminated OLED display. It is also supported in its operation by A9 AI technology, which improves the accuracy of the image and colors no matter how bright or dark the surrounding environment is.
10. LG 4K UHD Smart TV, 50 Inch:
LG Smart TV will give you a unique experience as if you own a cinema in your home, as well as be able to alert you for match times so you will not miss your favorite matches. and get you to play the best games smoothly and flexibly.
Shop now for the best 50-inch smart TV and take advantage of discounts.
11. LG 4K UHD Smart Screen 55 Inch:
What makes the LG 4K UHD Smart Screen 55-inch the option you choose is that it comes with a voice-controlled feature, giving you the luxury of remote control; it also has beautiful colors and harmonious brightness that will make you live in reality and provide unlimited excitement.
Order the best 55-inch LG smart TV screen now and experience the excitement.
12. LG 4K Smart TV, 55-Inch:
It is the best type of smart TV screen in terms of its size and high capacity to highlight the beauty of colors and different scenes like a cinematic screen does.
So, order it now and watch it at home.
See also: The best types of dishwashers and their prices in Saudi Arabia
13. LG 4K UHD Smart TV, 60 Inch:
Color your life with the best 4K smart TV in Saudi Arabia.
With an AI 5G processor and 4K screen, the LG 60-inch TV makes watching TV different. It's easy to use and full of watching options that make you feel excited all the time.
14. LG 4K Smart TV, 65 Inch:
Make your TV watching experience better with an LG TV screen that offers clarity of color and sound and emphasizes details as you are watching your matches, favorite series, or even when playing video games.
Order the best smart TV screens now via Shaker Group and take advantage of offers.
15. LG 4K Smart TV, 65 Inch:
LG offers the best types of home smart TVs.
The 7 Alpha Processor and 5th-generation LG TV make you reassured of the screen's ability to go from window to window without slowness in the processor and to enjoy your watching with the high-quality of its color.
16. LG 4K UHD Smart Screen, 70 Inch:
Get a fun watching experience with a smart TV characterized by 4K high resolution and a 70-inch size.
It is one of the best smart TV screens with its large size and elegant design, adding a luxury touch to your home decor. It is equipped with a 5G Alpha processor and voice-control technology that makes you more comfortable when searching for channels or features available.
17. LG QNED 4K Smart Screen, 75 Inches:
This TV provides you with limitless lighting no matter how dark the scenes are, so you can mimic the cinematic experience at home as you lie on the sofa and use the best technology.
Get real experience with a professional 75-inch LG TV.
18. LG 4K Smart Screen, 75 Inches:
Watch your favorite movies and find the best games with a 75-inch LG screen.
Experience a spectacular and unique experience with a large, real-color LG TV and the sound that fills the room.
This screen will become your best friend when you want to have fun watching.
19. LG 4K Smart TV, 86-inch:
Spend hours watching all your preferences clearly and in 4K resolution on the LG 4K Smart TV 86-inch, which also has a high-performance processor and clear colors, making the watching experience the best for family and friends.
Get unmissable features with an 86-inch LG screen via Shaker Group.
Best Smart TVs Stores in Saudi Arabia
The Shaker Group is one of the best television stores in Saudi Arabia. It offers the best smart TVs and the latest types of TVs at the best prices and has offers for all Saudi cities, wherever you are.
So, you can order a smart TV that suits you in terms of features and price. Take advantage of the offer of installments in 4 payments at the cash price and make your time more beautiful.
FAQs about Smart TVs
View the list of FAQs about smart TVs and their prices prepared by Shaker Group to answer all the questions you might have when you consider buying a plasma TV screen in Saudi Arabia.
1. How do I know that the TV supports 4K?
You can find out if the TV supports 4K by reading the label with all the screen details or by following the steps below:
Click on the right mouse button.
Open the settings.
Choose a screen resolution of 2160 x 3840.
Now, your TV screen supports 4K.
2. What is the best brand of LED TVs?
Panasonic and LG are the best LED TV brands, followed in order by:
Samsung TVs.
Toshiba TVs
LG TVs.
3. How do I know the best TV?
You can find out which is the best TV screen through a number of criteria, the most important of which are:
The screen size, the room size, and the number of the family member.
The screen resolution preferred to be while watching.
The response screen speed, knowing that it is not an affected element but for playing games.
High dynamic range (HDR) is a technology that makes your viewing more exciting in terms of colors and reality.
in terms of color and realism.
 
4. What's the difference between a smart TV and an LED?
Unlike other types of screens, smart TV screens require special operating systems, have a thinner design that makes them lighter, and are characterized by easily accessible WI-FI connection networks. However, it might be more expensive than other screen types.
5. What is the best TV?
The best TV is the one that meets your needs in terms of modern technologies, pure colors, and sound, and all these details can be found in the types of TV screens available at Shaker Group.
6. What's the best smart TV?
The OLED 4K Panasonic Smart TV 65-inch, black, is the best smart TV, black, because it supports all the modern technologies for 2023.
7. How do I know that the TV supports 4K?
4K TV means that it has 4K resolution, meaning that it contains about 8.3 million pixels. The resolution usually appears as "3840 by 2160" on 4K TV screens.
8. What is Smart TV?
Smart screens support a lot of modern features, including:
Have direct Internet access (DIA).
Make video calls.
Download games and apps.
View and watch all mobile contents on the screen.
9. What is the difference between a smart TV and an Android TV?
Although they may have many similar features, Android TVs are better to some extent; they support downloading and automatically updating them; they accept updating and upgrading the system unlike Smart TVs that, therefore, have to replace it when the system gets slower or older; and they also support updating a limited number of apps.
10. How do I know about Android TV?
Android TV can be defined through a number of features, including:
It has permanent Internet access.
It is easy to control and has a low price compared to the smart TVs that are considered expensive.
It supports app downloads and updates.
It has parental control and many other features.
11. What does "smart" mean?
Smart means "smart TV," which is a type of TV with many features and specifications, including:
Internet access.
Perfect size, light weight, and thickness.
Elegance of design and exterior color
Apps download-to.
High resolution for color and sound.
Voice-controlled support, and many other features.
12. What is Android TV?
Android's smart screen carries the same mobile phone specifications in terms of internet access, app downloads, and many other features.
13. What is the 4K feature?
The 4K feature refers to the accuracy and clarity of an image that may reach about 4,000 pixels. Some types of screens have this feature, like:
Android TV
web OS
Tizen
Roku TV
Smart Cast
Finally, TVs are one of the most important electrical appliances in a house. The better you choose it, the more excited and fun you will feel while watching TV, knowing that the features depend on the type of TV you choose.
At Shaker Group, we gathered for you the best types of TVs, including smart TVs, in Saudi Arabia so that you can choose based on our recommendations and compare specifications and prices to find the best screen for you.