Say hello to a fresh and healthy lifestyle with the Midea Blender
Blenders aren't just for smoothies anymore! Our innovative new blender has a powerful 310 W motor that can take on any mixing task you have, which means it doesn't just blend, it cooks!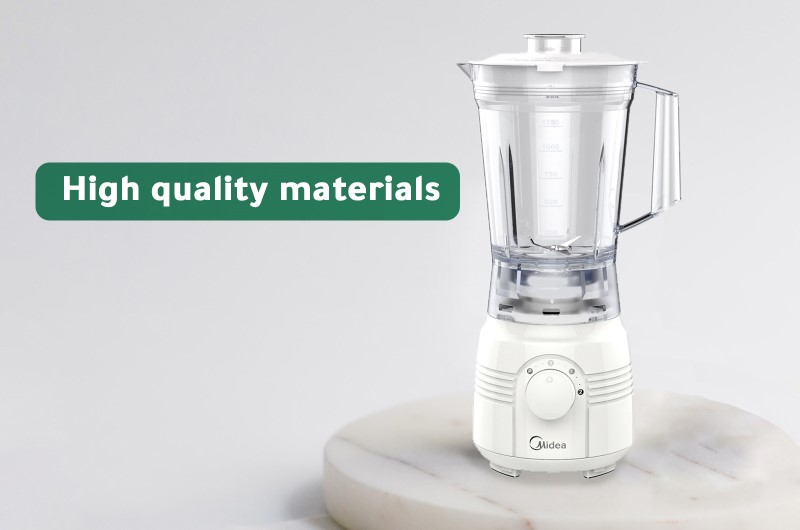 Versatility
Easily and quickly make smoothies, icy treats, nut butters, nut milk, oat milk, soy milk and rice milk. Or cooking soups, sauces, dips and even baby food.
4 stainless steel blades
Powerful 4 stainless steel detachable blades for fast crushing both soft and hard ingredients.
Quick Cleaning
One-touch dedicated program delivers hassle-free cleaning. Safely clean under blades with cleaning brush.
This Midea Blender will blend right into your daily routine!
The powerful 310 W motor can take on any mixing task, and best of all is its easy cleaning function.
The blender's shape allows for maximum power and balance, with a perfect tension-free grip that delivers unparalleled comfort and control, even during long blending. Take out the mixing utensils without getting your hands dirty, then clean them easily as all accessories are dishwasher safe. You will feel more comfortable when doing kitchen chores with this mixer.
This Midea Blender is:
Powerful: 310 watts can satisfy with your daily demands.
Family size: 1.5L plastic jug is great for making large batches for the whole family, with 200 ml Grinder Jar, 50 ml measuring Cup.
Design: Special design of jug cover prevent liquid from being spill out.
Easy to use: 2 Speeds + Pulse switch control Grinder to satisfy your customized demand.
It features interlock Protection, 4 leaves stainless steel detachable blades and it's dishwasher safe!
Weight: 2 Kg
Model Number: BL2516A2