The Best appliance For Your Kitchen
The food processor is designed to be small and exquisite, and of a durable quality. No matter what you want to make-soup, mayonnaise, baby food, milk shake and so on, using these machines can make things very easy and fast.
Easy Use
The machine is very easy to clean. It can provide your daily life with a lot of comforts and convenience.
Achieve Your Desired Results Every Time
Midea Hand Blender is a great all-rounder that offers performance, versatility and style. The 400 W motor and variable speed dial with pulse will give you total control, ensuring you achieve your desired results every time. To make things even easier for you, both the bowl and blender are run from the same base, saving space on the worktop.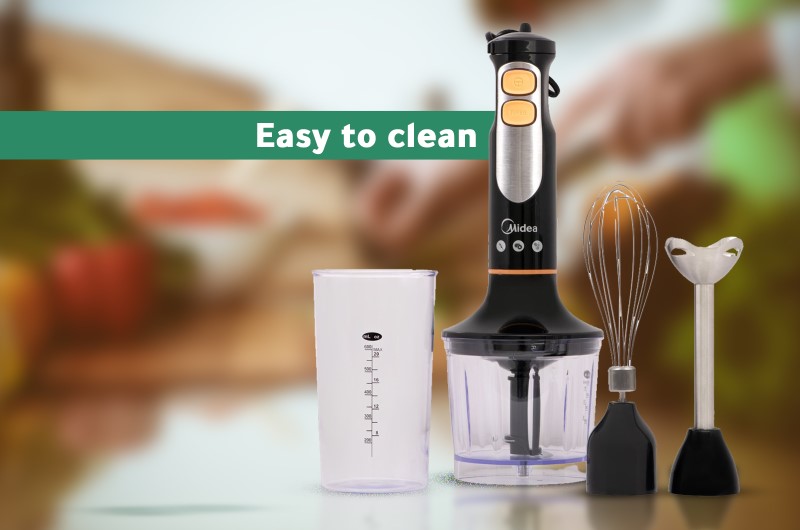 No Heat Source Needed
This hand blender is not designed for use on a heat source. But this appliance is not intended for cutting ice.
To use in a saucepan, be sure to remove the pan from the stove.
Liquid is required to blend food. Add cooking liquid, broth, fruit juice, milk or cream until the desired consistency is reached.
How To Use
For thorough mixing, move the hand blender up and down in the mix until a homogeneous mixture is obtained,
and for best mixing results and to reduce splashing (especially hot or liquid foods), use tall and deep containers.
Meat must be cut into pieces before processing in the food processor.
Do not allow to use the hand blender for a long time.
Power: 400 Watt
Number Of Speeds: 2
One Pulse Setting
Knob Control
Cup Capacity: 0.7 Liter
Material: Stainless Steel
Chopping Bowl With Stainless Steel Blades
Metal Ballon Whisk Attached
220/240 Volt – 50/60 Hz
SKU: MJBH4001W