Unique Design
Get this double door refrigerator, which is very good for a lot of your storage in a fairly tight spot. It offers you a good design along with the most space you can have in your kitchen for placing other kitchen stuff. Keep you food fresh and cold, no matter how big it is.
Preserve The Freshness In Your Food
This cool refrigerator with a 463 L capacity will preserve your delicious food and make sure that the freshness and nutrients last long. Midea refrigerator comes with multiple shelving options that help you maximize storage capacity. All this without making the refrigerator bulky.
Organize Your items The Way You Prefer
You will be able to insert each item in the correct place since there are big cooling zones and many shelves as well as a big vegetable box and a 2 L bottle rank. You will also get easy access to what you need within moments.
Stainless Steel Body
The refrigerator has been manufactured with the best types of stainless steel, which is characterized by its high quality and its superior ability to withstand erosion factors, which contributes to providing the necessary safety and protection from exposure to corrosion and rust.
Environmentally Friendly Technology
The refrigerator is characterized by the presence of a cooling gas that is environment safe, as it does not cause any emissions that negatively affects food. It is also very quiet, providing a quiet cooling process, which makes the Midea refrigerator one of the best choices for you.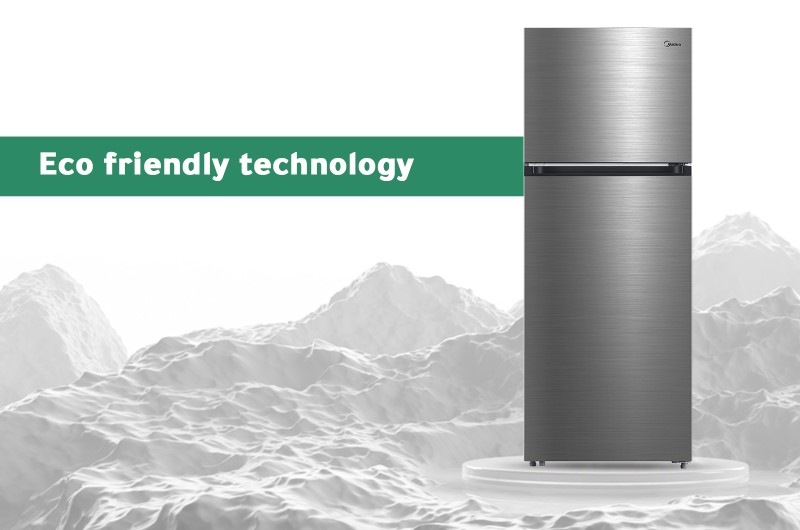 Stylish Modern Design
The Midea refrigerator comes with a stylish, modern design suitable for all modern decorations, as it adds an aesthetic touch to your kitchen. It also highlights the aesthetic features of the architectural design in modern kitchens and adds an aesthetic glimpse to your kitchen due to its dark steel color.
Temperature Control
By using this mechanical temperature control, you can easily adjust the temperature for getting less cooling air for your stored vegetables and fruits.
Low Noise Level
No one wants a refrigerator with a loud noise. You would enjoy the good quietness by using this one, either while cooking and preparing food in your kitchen or while sleeping, getting some rest or doing other fun activities at home.
Capacity: 463 Liters
Inverter Quattro
Size: 16.4 Cubic Feet
Type: Double Door
Smart sensor
Active-C Fresh
Electronic Control
Big Cooling Zone
Big Vegetable Box
2 L Bottle Rank
Humidity Control
Dual LED
Dimension (WxDxH): 70x67x188 cm
SKU: HD624FWEN